"Who do you say Jesus is?" – Sunday Preview by The Rev. Stephanie Kendell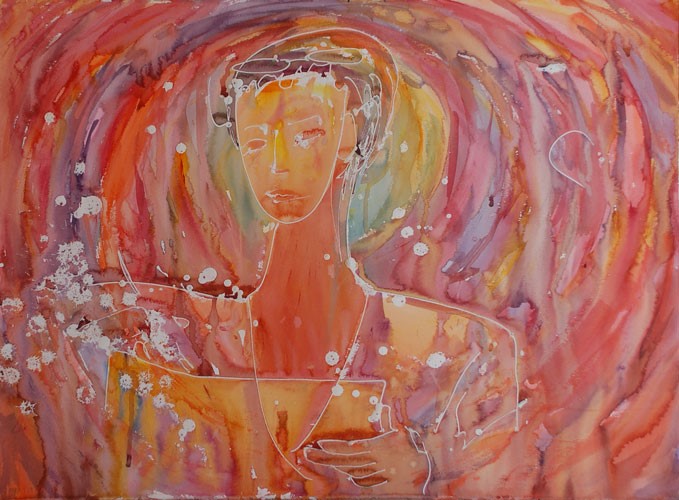 In the Fire-y River of God – Batik by Gwen Meharg
En el fuego y en el río de Dios-Batik de Gwen Meharg
Beloved Church,
It is another exciting week at The Park and this week is unique because it is Homecoming! We have so many wonderful things planned including a reception after service. So, we hope to see you for our 11am worship where we will hear a message from Pastor Kaji, and then we hope you will stay for some fellowship at our reception afterwards.
A group of us have been working on this homecoming celebration for quite some time. And with each vendor that I speak to, the first thing I do is tell them a little about The Park. I use phrases like "justice seeking followers of Christ," or "a radically welcoming and diverse Christian community." However, during one conversation, I thought to myself, "Why do I feel the need to tell them who we are?" I thought about this for a bit and then finally concluded that I shared a bit about who we are because it is not the language that is most often used for "Christian" spaces.
Being able to say who we are as a community says something, something powerful, about how we view God in the world and our relationship to that God. The Park being able to name God as a God of justice, Jesus as a God of the oppressed, and Christ as One who calls us to community are powerful tools in sharing the Gospel. These are just some of the ways that I, Rev. Stephanie, understand God at work in our community. That is because the nuanced and complex identity of who Christ is as diverse as creation. As we see in this week's scripture people have been using different ways to describe Jesus since the early disciples.
Now when Jesus came into the district of Caesarea Philippi, he asked his disciples, 'Who do people say that the Son of Man is?' And they said, 'Some say John the Baptist, but others Elijah, and still others Jeremiah or one of the prophets.' He said to them, 'But who do you say that I am?' Simon Peter answered, 'You are the Messiah, the Son of the living God.' And Jesus answered him, 'Blessed are you, Simon son of Jonah! For flesh and blood has not revealed this to you, but my Father in heaven. And I tell you, you are Peter, and on this rock I will build my church, and the gates of Hades will not prevail against it. I will give you the keys of the kingdom of heaven, and whatever you bind on earth will be bound in heaven, and whatever you loose on earth will be loosed in heaven.' Then he sternly ordered the disciples not to tell anyone that he was the Messiah. (Matthew 16:13-20, NRSV)
This passage teaches us that as long as your understanding of Jesus is rooted in the actions of those around you, and your call to the church is to live into Christ's call to love your neighbor, the language is left to the spirit. Who do you say The Park is, is directly related to who you say Jesus is. We are a congregation that seeks to love people as they are. As Jesus did. We are a congregation who seeks justice and offers hope. As Jesus did. We are a congregation who celebrates the divinity of diversity. As Jesus did and does.
This week, as we look forward to celebrating homecoming, I hope you take some time to think about who The Park is, and share that with them by inviting them to worship. Because by sharing your love of The Park you share your love of Jesus and tell the world who you say Jesus is. We are more than the name Park Avenue Christian Church. We are a community of people committed to following Christ Jesus in love, justice, joy, and hope…and we are just getting started.
Shalom Y'all.
Rev. Stephanie

 ¿Quién dices que Jesús es?
Amada iglesia,*
Nos toca otra semana emocionante en The Park y esta semana es muy especial porque celebramos la Bienvenida a Casa. Tenemos muchas cosas planificadas, por ejemplo, una recepción luego del servicio. Por eso esperamos verles durante nuestro servicio de adoración a las 11am en el que predicará la pastora Kaji.  Le invitamos a que comparta en comunidad durante la recepción.
Algunos de nosotrxs hemos estado trabajando en esta celebración por un tiempo. Lo primero que hago con cada vendedor con quien hablo es contarle un poco sobre la iglesia. Les digo "que somos cristianxs en busca de la justicia" o "que somos una comunidad que ofrece una bienvenida radical y que venimos de trasfondos distintos". Sin embargo, durante una conversación, pensé sobre "porqué necesito decirles quienes somos". Luego de reflexionar un poco llegué a la conclusión que lo hago porque no suele ser el lenguaje que se utiliza en contextos cristianos.
Poder verbalizar quiénes somos como comunidad revela algo, algo poderoso sobre cómo vemos a Dios en el mundo y nuestra relación con Dios. El hecho que la iglesia nombra a Dios como un Dios de justicia, Dios de lxs oprimidxs y Cristo como quien nos llama a vivir en comunidad son herramientas poderosas para compartir el Evangelio. Estas son algunas maneras en que yo, la Revda. Stephanie, entiendo a Dios en medio de nuestra comunidad. Por eso es que los matices y la compleja identidad de Cristo es tan vasta como la creación. Vemos en la Escritura de esta semana cómo las personas han utilizado diversas maneras de describir a Jesús desde la Iglesia Primitiva.
Cuando llegó a la región de Cesarea de Filipo, Jesús preguntó a sus discípulos:
―¿Quién dice la gente que es el Hijo del hombre?
Le respondieron:
―Unos dicen que es Juan el Bautista, otros que Elías, y otros que Jeremías o uno de los profetas.
―Y ustedes, ¿quién dicen que soy yo?
―Tú eres el Cristo, el Hijo del Dios viviente —afirmó Simón Pedro.
―Dichoso tú, Simón, hijo de Jonás —le dijo Jesús—, porque eso no te lo reveló ningún mortal, sino mi Padre que está en el cielo. Yo te digo que tú eres Pedro y sobre esta piedra edificaré mi iglesia, y las puertas del reino de la muerte no prevalecerán contra ella. Te daré las llaves del reino de los cielos; todo lo que ates en la tierra quedará atado en el cielo, y todo lo que desates en la tierra quedará desatado en el cielo.
Luego les ordenó a sus discípulos que no dijeran a nadie que él era el Cristo. (Mateo 16:13-20, NIV)
Este pasaje nos enseña que mientras nuestra comprensión de Jesús este arraigada en las acciones de aquellos a tu alrededor y tu llamado eclesial es vivir el llamado de Cristo a amar al prójimo, el lenguaje sigue por añadidura. Quién dices que es The Park está directamente relacionado con quien dices que es Jesús. Somos una congregación que procura amarte tal como eres.  Como hizo Jesús. Somos una congregación que busca la justicia y ofrece esperanza. Como hizo Jesús. Somos una congregación que celebra la divinidad en la diversidad. Como hizo y hace Jesús.
Esta semana, mientras nos preparamos para celebrar la Bienvenida a Casa, espero que reflexionen sobre quién es The Park y que compartas tu pensar con las personas que invites al servicio de adoración. Porque cuando compartes tu amor por nuestra iglesia, compartes el amor de Jesús y le dices al mundo quién es Jesús para ti. Somos mucho más que el nombre Park Avenue Christian Church. Somos una comunidad de personas comprometidas a seguir a Jesucristo en amor, justicia, gozo y esperanza…y esto solo es el comienzo.
¡Paz, mi gente!
Revda. Stephanie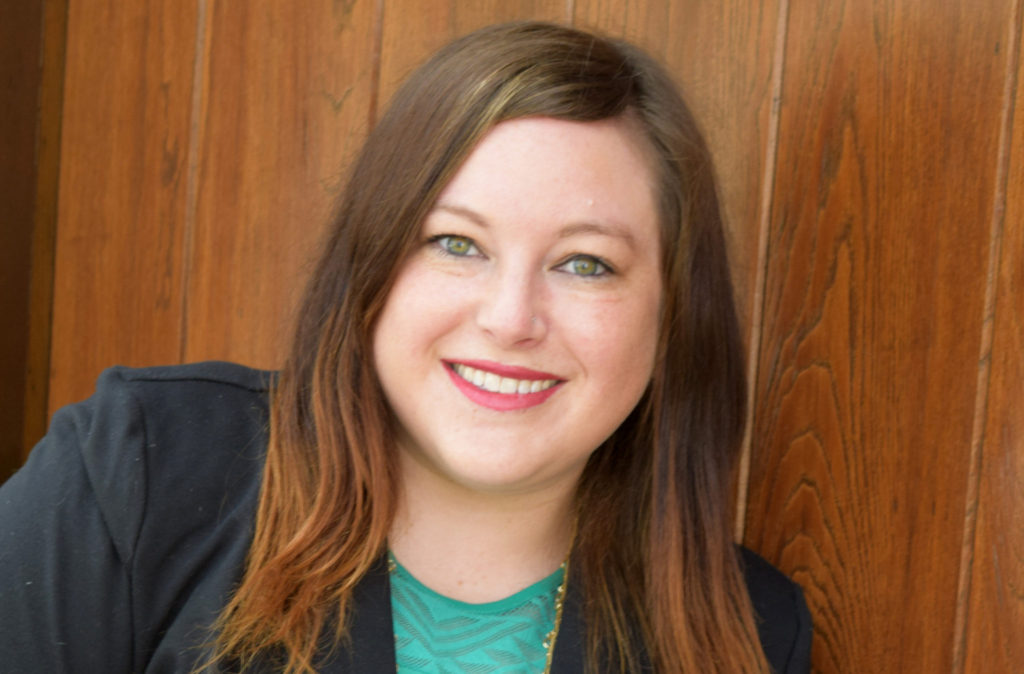 * Translation by Rev. Jeanette Zaragoza / Traducido por la Rvda. Jeanette Zaragoza