"The Patience Required in Forgiveness" – Sunday Preview by The Rev. Stephanie Kendell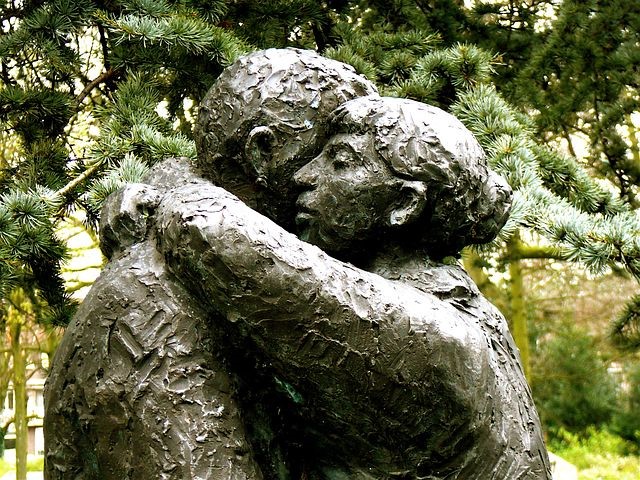 Beloved Church,
It is another wonderful week to join in the faith journeys of our friends, neighbors, and peers. Each week I am grateful that you share your unique gifts with me and this congregation. I look forward to sharing the way God's love has manifested and unfolded in your life on Sunday.
Forgiveness is a spiritual practice that I have been working to understand for a while. For the last three years, I have studied the work of Jacque Derrida who offered the metaphor of forgiveness and hope as a gift that you forgot you gave. What I believe he meant is that one can only forgive a wrongdoing if there is no equity of power left lingering after the exchange. This type of forgiveness is not something that comes easy or quickly. It is something that take time and work. Each day we encounter situations that request our forgiveness. Sometimes it is with a family member, sometimes with stranger, and sometimes with ourselves. Jesus's reconciling and forgiving ministry is the greatest gift that Jesus gave and continues to give to each of us. It is a love so great that it manifests in different ways and we use different words to describe it depending on where we are in our life. Forgiveness takes time and patience because true forgiveness comes from a place of making the impossible possible or as Derrida suggested, "Forgiveness must announce itself as impossibility itself." This week's text walks us through the patience needed and the love required to work with God in offering true forgiveness from our heart.
Then Peter came and said to him, 'Lord, if another member of the church sins against me, how often should I forgive? As many as seven times?' Jesus said to him, 'Not seven times, but, I tell you, seventy-seven times.
'For this reason the kingdom of heaven may be compared to a king who wished to settle accounts with his slaves. When he began the reckoning, one who owed him ten thousand talents was brought to him; and, as he could not pay, his lord ordered him to be sold, together with his wife and children and all his possessions, and payment to be made. So the slave fell on his knees before him, saying, "Have patience with me, and I will pay you everything." And out of pity for him, the lord of that slave released him and forgave him the debt. But that same slave, as he went out, came upon one of his fellow-slaves who owed him a hundred denarii; and seizing him by the throat, he said, "Pay what you owe." Then his fellow-slave fell down and pleaded with him, "Have patience with me, and I will pay you." But he refused; then he went and threw him into prison until he should pay the debt. When his fellow-slaves saw what had happened, they were greatly distressed, and they went and reported to their lord all that had taken place. Then his lord summoned him and said to him, "You wicked slave! I forgave you all that debt because you pleaded with me. Should you not have had mercy on your fellow-slave, as I had mercy on you?" And in anger his lord handed him over to be tortured until he should pay his entire debt. So my heavenly Father will also do to every one of you, if you do not forgive your brother or sister from your heart.'
(Matthew 18:21-35, NRSV)
Forgiveness is hard and something that we need to continuously work on. I know for me, forgiving myself is the hardest part. Possibly, because as David Smock reminds us, "Forgiveness is not absolution. It is not an act that frees people for their consequences of their actions." Forgiveness offers a space of peace and an avenue to move forward but it does not shed the pain from experiences that hurt us. That is why part of what is required to forgive is the time and space to do it. The patience and the power to forgive is a wonderful and heady thing that we get to experience, but it is something that we each get to take a part in. We each get to give the gift of grace and forgiveness and hopefully in return we get to experience the gift of being forgiven.
Friends, this week as we encounter each other on our journeys of faith may we make room for the spaces of grace that we need in our lives. And may that grace accompany the patience needed to forgive each other, and in turn be forgiven so that we may truly live into the gift of God's impossibly possible reconciling love.
Shalom Y'all.
Rev. Stephanie 
La paciencia que se require para perdonar
Amada iglesia,*
Tuvimos otra increíble semana en la fe con nuestras amigas, vecinos y colegas. Cada semana agradezco que ustedes comparten conmigo y esta congregación sus talentos. Estoy deseosa de compartir con ustedes este domingo esas maneras en que Dios manifiesta su amor en sus vidas.
El perdón es una práctica spiritual que he procurado comprender desde hace un tiempo. Durante los últimos tres años, he estudiado los escritos de Jacque Derrida quien ofrece una metáfora del perdón y la esperanza como "un regalo que se te olvidó dar." Lo que creo que él quiso decir es que solo podemos perdonar si no queda un residuo de poder luego del intercambio. Este tipo de perdón no es algo que se da con facilidad o rapidez. Es algo que toma tiempo y disciplina. Cada día nos tropezamos con situaciones que requieren nuestro perdón. A veces es con un miembro de la familia, otras con un extraño y a veces con nosotros mismos. El ministerio del perdón y reconciliación es un gran regalo que Jesús da y continúa dándonos a cada uno de nosotros. Es un amor tan grande que se manifiesta en diversas maneras y, dependiendo de donde nos encontramos en nuestras vidas, lo describimos de distintas formas. El perdón requiere paciencia y tiempo porque el perdón verdadero viene de un lugar de hacer lo imposible posible o como dijo Derrida, "el perdón se debe anunciar a sí mismo como una imposibilidad". El texto de esta semana nos apunta a la paciencia y el amor necesario para trabajar con Dios para ofrecer el perdón verdadero de nuestros corazones.
Pedro se acercó a Jesús y le preguntó:
―Señor, ¿cuántas veces tengo que perdonar a mi hermano que peca contra mí? ¿Hasta siete veces?
―No te digo que hasta siete veces, sino hasta setenta y siete veces —le contestó Jesús.  »Por eso el reino de los cielos se parece a un rey que quiso ajustar cuentas con sus siervos.  Al comenzar a hacerlo, se le presentó uno que le debía miles y miles de monedas de oro.  Como él no tenía con qué pagar, el señor mandó que lo vendieran a él, a su esposa y a sus hijos, y todo lo que tenía, para así saldar la deuda.  El siervo se postró delante de él. "Tenga paciencia conmigo —le rogó—, y se lo pagaré todo".  El señor se compadeció de su siervo, le perdonó la deuda y lo dejó en libertad.
»Al salir, aquel siervo se encontró con uno de sus compañeros que le debía cien monedas de plata. Lo agarró por el cuello y comenzó a estrangularlo. "¡Págame lo que me debes!", le exigió.  Su compañero se postró delante de él. "Ten paciencia conmigo —le rogó—, y te lo pagaré".  Pero él se negó. Más bien fue y lo hizo meter en la cárcel hasta que pagara la deuda.  Cuando los demás siervos vieron lo ocurrido, se entristecieron mucho y fueron a contarle a su señor todo lo que había sucedido.  Entonces el señor mandó llamar al siervo. "¡Siervo malvado! —le increpó—. Te perdoné toda aquella deuda porque me lo suplicaste.  ¿No debías tú también haberte compadecido de tu compañero, así como yo me compadecí de ti?"  Y, enojado, su señor lo entregó a los carceleros para que lo torturaran hasta que pagara todo lo que debía.  »Así también mi Padre celestial los tratará a ustedes, a menos que cada uno perdone de corazón a su hermano». (Mateo 18:21-35, NIV)
El perdón es difícil y algo que debemos de trabajar continuamente. Para mí, perdonarme es lo más difícil. Es posible porque como nos recuerda David Smock, "el perdón no es una absolución. No es un acto que exonera a las personas de las consecuencias de sus acciones". El perdón nos ofrece la posibilidad de la paz y una avenida para seguir adelante, pero no borra el dolor de la experiencia que duele. Por eso es que parte de lo que se requiere para perdonar es el tiempo y el espacio para hacerlo. La paciencia y el poder de perdonar es algo fabuloso que nos toca experimentar, pero es algo en los que todxs participamos. Cada una y uno de nosotros nos toca extender el regalo de la gracia y el perdón, y esperamos que a cambio, experimentemos el regalo de ser perdonados.
Hermanas y hermanos, esta semana mientras nos encontramos en nuestras jornadas de fe, oremos para que podamos crear espacios de gracia necesarios en nuestras vidas. Oremos para que esa gracia esté acompañada de la paciencia necesaria para perdonarnos y a cambio ser perdonados para que podamos vivir en el regalo de Dios, la posibilidad imposible del amor reconciliador.
¡Paz mi gente!
Revda. Stephanie
* Translation by Rev. Jeanette Zaragoza / Traducido por la Rvda. Jeanette Zaragoza