An Account of Ramesh Palaniandi's Struggle with ICE, by his wife, Janice Hoseine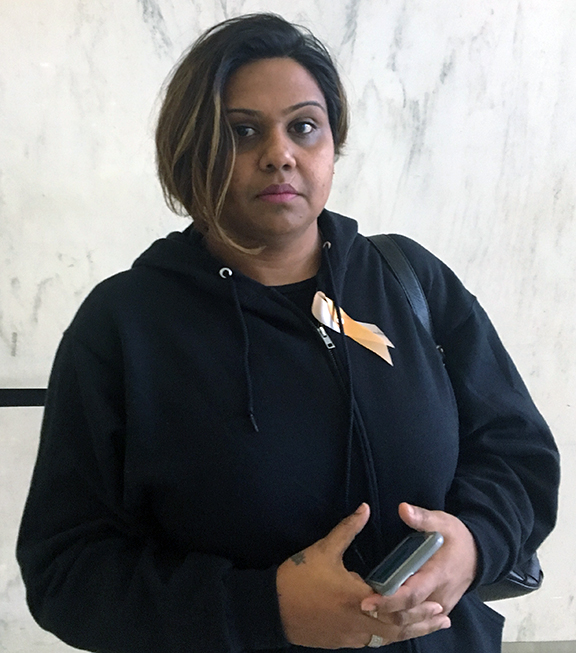 Ramesh Palaniandi's wife, Janice Hoseine
Ramesh Palaniandi was taken into immigration custody AGAIN on March 09, 2017.
Ramesh walked into ICE's office for his scheduled check-in to comply with the terms of his release from detention. ICE officers told him that he would be taken into custody because he had "nothing pending". This is false. At the time Ramesh went to his check-in he had a postconviction motion pending before a New York State court. If that motion is successful, it will eliminate the removal grounds ICE depended on to order him deported. Ramesh also had a Motion to Reopen pending. At the check in his wife, Janice Hoseine, explained to ICE officers that the Motion to Reopen was being reviewed by attorneys at the stellar NYU Immigrant Rights Clinic, and would be filed immediately. Even when an attorney corroborated that the motion would be filed imminently, even after the attorney had proof in hand that the motion had in fact been filed, ICE still elected to take Ramesh into custody. If the Motion to Reopen is successful, it will reverse the removal order, and allow Ramesh to argue that it was legal error for the Immigration Court to have ordered him deported. United States Supreme Court precedent is on Ramesh's side. In a case the Supreme Court decided in 2013, the Supreme Court held that convictions like Ramesh's are not aggravated felonies. See Descamps v. United States, 570 U. S. ___, ___, 133 S.Ct. 2276, 2289, 186 L.Ed.2d 438. The Supreme Court analyzed a California statute in Descamps, but there is neither functional nor constructive difference between the California statute and the New York statute Ramesh was convicted under.
Ramesh was previously released from ICE custody on or about September 09, 2016. He had spent 557 days in detention. His attorneys had told him he would not and could not be released. The couple submitted a motion they prepared with the help of Chad Robertson of Robertson & Geronimo, an immigration paralegal, to a federal district court. The motion argued that Ramesh should not be detained while his case wended its way through the courts. When he was released, one of Ramesh's previous attorneys told his wife that they had done the "impossible."
Since his release, Ramesh has been a staunch advocate of immigrants' rights. He and his wife regularly volunteer and are members of the New Sanctuary Coalition. On Thanksgiving Eve, the couple and friends delivered meals to people who wouldn't otherwise have been able to eat, as well as distributed care packages with food, socks, and toiletries. As a co-chair of New Sanctuary Coalition, Janice helps counsel wives and girlfriends of the men ICE detains, and helps them find assistance with immigrant advocates and legal counsel. Not every attorney understands immigration law, and most people need guidance through a system that is incredibly complex. Having experienced it, she readily shares her experiences. She has been invited to speak at immigrant rights groups and continues to advocate for her husband's release as well as fair-treatment and justice for everyone irrespective of their nationality or immigration status.
Ramesh entered the United States as a Permanent Resident on June 21, 1992. He was just shy of 13 years old at the time. Ramesh married Janice Hoseine December 6, 2008. They have been together for almost 20 years.
On March 2, 2015, the Department of Homeland Security detained Ramesh and served him with a Notice to Appear, charging him with removability as an admitted alien convicted of an aggravated felony theft or burglary offense. DHS asserted that because his conviction is an "aggravated felony" Ramesh should be treated, and removed as such. That is, he must not be released from detention, deportation is mandatory, he must not be permitted to apply for relief, and he must be barred from the United States for the rest of his natural life.
On October 28, 2015, the Immigration Court, Immigration Judge ("IJ") Mulligan ordered Ramesh removed, and denied all applications for relief. Ramesh appealed to the Board of Immigration Appeals. On March 09, 2016, the Board of Immigration Appeals affirmed the order of the Immigration Judge, and dismissed the appeal.
April 20, 2016 Ramesh began to lose his vision. Toxoplasmosis, a condition he was born with was now being aggravated by his lengthy detention. Facility medical personnel prescribed him aspirin and refused him further treatment. Approximately 3 months after complaining daily about the condition, a physician told him that the lack of treatment and proper medication left him with a chorioretinal scar in his left eye.
On June 15, 2016 while Janice was at Judson Memorial Church with her New Sanctuary Coalition support group, Ramesh called to say that he was being moved from Orange County Jail. Janice rushed to 201 Varick Street to speak to ICE officers. One of the officers said that Ramesh was going to be sent to Guyana that night. Janice provided the officer with a docket number from the United States Court of Appeals for the Second Circuit. The Second Circuit is the second highest court in the United States. Only the U.S. Supreme Court supersedes or can overrule it. Ramesh had a Petition for Review with a Stay of Removal filed.
Shortly after midnight two ICE officers told Ramesh he had to board a commercial flight to Guyana. Ramesh refused because he knew that the Second Circuit court requires ICE officers not to remove him from the United States while that Court reviews his case. The officers then drove Ramesh back to Orange County Jail.
On September 9, 2016, Janice received a letter that stated Ramesh was being released that same morning. She confirmed with Ramesh's Immigration Officer and rushed again to 201 Varick Street. From there Ramesh was taken to 26 Federal Plaza and placed under an order of supervision. As a condition of his release, ICE affixed a GPS tracking bracelet to his ankle, and prohibited him from leaving New York without permission.
To compound tragedy with further injury, after his release Ramesh discovered that attorneys he and his wife had, had to sacrifice and mortgage their lives to pay, had failed to challenge the aggravated felony. This failure prevented the Second Circuit from exercising jurisdiction and giving full effect to the Supreme Court's Descamps ruling. Unable to afford further representation, and having found success by filing pro se, the couple decided they had no choice but to petition the Board of Immigration appeals to reopen his case, and present the Board with evidence of their attorney's misconduct. The Motion to Reopen is the last chance Ramesh has to convince the courts that his removal is unlawful. After reviewing the motion to reopen, attorneys at the NYU law clinic agreed to supplement the couple's pro se motion with further legal argument.