Project: Back to School JULY 15 – AUGUST 26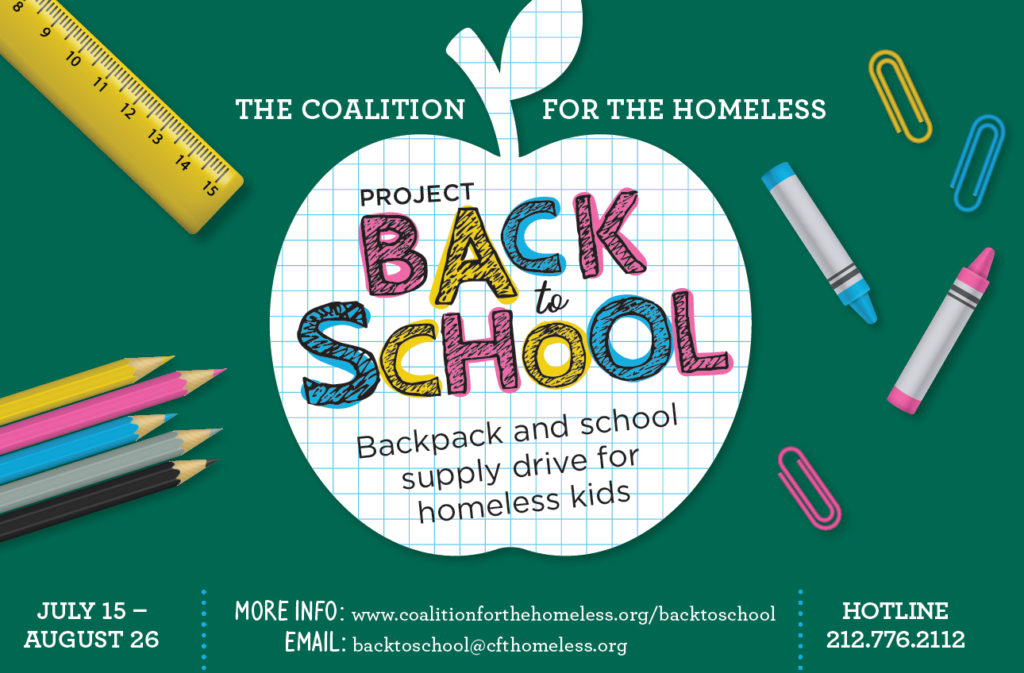 HOMELESSNESS IN NEW YORK CITY
Nearly 115,000 NYC schoolkids experienced homelessness at some point last year – that's roughly one-in-ten students in our city. The stress and trauma of homelessness leave these girls and boys struggling to keep up with their classmates, and their families often can't afford even the most basic items that kids need for school: backpacks, notebooks, binders and other supplies.
PROJECT: BACK TO SCHOOL
Project: Back to School partners with companies, law firms, schools and caring individuals to collect more than 3,000 NEW backpacks for homeless students and fills them with all the supplies a child needs to start the school year right.
You can help a homeless girl or boy with a simple donation of a new backpack or any of the supplies on our wish list.
WHAT YOU CAN DO:
• Host a drive for NEW backpacks and school supplies at your workplace or school.
• Make a donation at: coalitionforthehomeless.org/donate-back-to-school. Just $20 provides one child with a backpack full of school supplies.
• Volunteer to help sort supplies and stuff backpacks!
• Purchase new items and drop them off at any of our partnering locations.
ABOUT THE COALITION:
The Coalition for the Homeless provides food and clothing, eviction prevention, crisis services, permanent housing, job training and programs for youth to thousands of homeless New Yorkers each day, while our advocacy fights for the proven, housing-based solutions to homelessness that will end this terrible crisis once and for all. Since 1981, we have given more than one million homeless New Yorkers a way off the streets.
See this flyer for a wish list of school supplies.