Mayoral Candidates Forum & Interfaith Iftar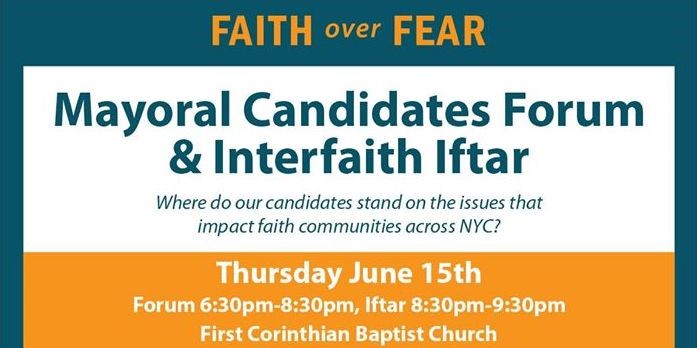 Date: Thursday, June 15, 2017
Time: 6:30 pm – 9:30 pm
Location: First Corinthian Baptist Church, 1912 Adam Clayton Powell Jr Blvd, New York, NY 10026
Join us for the Faith Over Fear: Mayoral Candidates Forum & Interfaith Iftar at 6:30pm to learn about our candidates and their vision for our communities.
Our next mayor will shape the direction of our city for the next 4 years.
How will they support real affordable housing in our communities?
Will they push for measures that increase police accountability?
What are their plans for keeping our city a sanctuary city?
After the forum, we will have an Interfaith Iftar to break fast and pray with our Muslim sisters and brothers as we honor Ramadan. Invite fellow congregants, neighbors, friends & family to discuss the importance of why their vote matters with you one on one or in a group setting, and leave them with flyers and have them sign pledge cards!
RSVP at: http://salsa3.salsalabs.com/o/2115/c/10406/p/salsa/event/common/public/?event_KEY=95868