"Let's Commit" by The Rev. Stephanie Kendell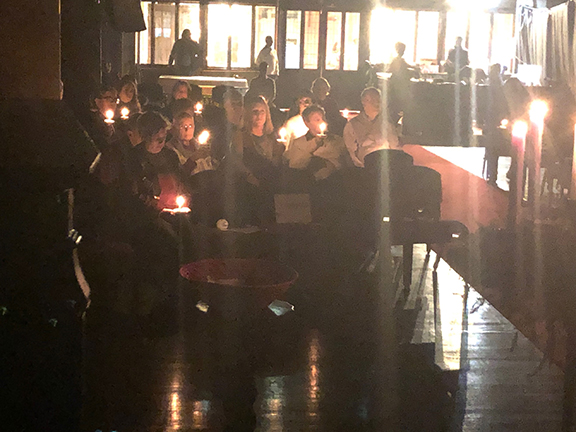 Beloved Church,
It was such a blessing to share Christmas with you. May these 12 days of Christmas bring you all the love of this world. The above picture was taken as I processed out of the 11 pm service. It was such a special and holy time and I am so thankful for everyone who made it possible.
Also, our theme for next year, as Pastor Kaji mentioned in her sermon this week, is "Commit!" We are about to embark on a journey together in which we explore the many commitments we are called to make (To God. To each other. To Ourselves!) and offer some resources to help you. For example, January's commitment is "Commit to Be Seen" and we will be reading together Austin Channing Brown's "I'm Still Here: Black Dignity in a World Made for Whiteness," and so much more.  Stay tuned next week for more information and be sure to follow us on Twitter, Facebook, Instagram and YouTube.
This week we get to look at a time in Jesus's life that we don't know a lot about, his teenage years. We get to learn that Jesus was called to deeply invest in his faith from an early age. We even get to see a bit of his rebellious teenage personality. Let's read together this piece of Jesus's life from the Gospel according to Luke.
"41 The parents of Jesus used to go every year to Jerusalem for the feast of Passover, 42 and when Jesus was twelve, they went up for the celebration as was their custom. 43 As they were returning at the end of the feast, the child Jesus remained behind in Jerusalem, unbeknownst to Mary and Joseph. 44 Thinking Jesus was in their caravan, they continued their journey for the day, looking for him among their relatives and acquaintances.
45 Not finding Jesus, they returned to Jerusalem in search of him. 46 On the third day, they came upon Jesus in the Temple, sitting in the midst of the teachers, listening to them and asking them questions. 47 All who heard Jesus were amazed at his understanding and his answers.
48 When Mary and Joseph saw Jesus, they were astonished, and Mary said, "Son, why have you done this to us? You see that your father and I have been so worried, looking for you." 49 Jesus said to them, "Why were you looking for me? Did you not know I had to be in my Abba's house?"
50 But they didn't understand what he told them. 51 Then Jesus went down with them to Nazareth and was obedient to them. Mary stored these things in her heart, 52 and Jesus grew in wisdom, in years and in favor with God and people alike." (Luke 2:41-52)
When I read pieces of scripture about Jesus's adolescence, I always find myself thinking about the work we are called to do together. Specifically, intergenerational work. Can you imagine who in Jesus's life, outside of his family, is influencing his ministry, being his prayer companions, and helping him figure out who he is to this world during this time? And how incredible they must have been, to help Jesus become such a leader. Who in your life influenced you? Who taught you about love, laughter, and heartache? This story will teach us many things but one that I want to focus on here is our call to responsibly engage and inspire the young people of the world to be their best selves and lead the church into the future. Jesus didn't become the human man he was without the love and support of his community why would we expect kids today to not have that same support? Here at The Park, we don't.
This year what would it mean to your faith life to talk to one of our teenagers or middle schoolers about what God is doing in their life? What would it take for you to be open enough to hear their stories with value and sincerity? What might sharing a story with someone from a different generation bring to your new year? As we hear in verse 52, Jesus grew in wisdom, which meant that he listened to the children, debated the elders, and had conversations with his peers to actively engage and live into a life of faith that God had called him to. A faith that stretches and grows as we journey our lives.
Friends, may each day we follow this model to grow in wisdom. To journey and grow in communities that love and support us so that we may become the best versions of ourselves. Each day we grow in wisdom and age. We are never a finished product. We are never finished growing in our faith. What a gift it is to know that each day we are given is another opportunity to gain a deeper relationship with God and with each other. I hope that brings new meaning to each new day and the coming new year.
Shalom Y'all.
Rev. Stephanie
A prayer for your week: Holy One, the wisdom of the ages is not just for the oldest among us. May we listen to the stories of every person and be inspired by every generation to deepen our understanding of you and our care of your creation. Amen