"Bloom with Curiosity: Connection" by The Rev. Stephanie Kendell
Beloveds,
I hope that this week greets you with joy and expectation of the changing seasons and the hope that comes with all things new. The season of autumn is my favorite. I love the changing colors of the trees. I love the crisp breeze that accompanies a long walk. I especially love the reflection and connection that starts with All Saints Sunday (or in some communities known as Dia De Los Muertos) and continues through Advent. I hope that we will see you in worship this Sunday as Pastor Kaji preaches on the Book of Ruth and the connection found between these two women, their communities, and God.
The Book of Ruth was written between the 6-4th centuries BCE and it tells the story of a Moabite woman named Ruth who comes to know the God of Israel through her mother-in-law, Naomi. Ruth's husband, Mahlon, died and Naomi insists that Ruth return to her mother and remarry. But Ruth refuses and gives an impassioned speech of covenant to Naomi and the life they have built together. Our scripture today is that speech. As you read it, I invite you to consider what you would do if you were Ruth or Naomi? What does it mean to return to something or someone? Where is God at work in this conversation between Ruth and Naomi for you? Let us read together this conversation between Ruth and Naomi from the Book of Ruth chapter 1 verses 14-18.
And once more they wept loudly.
Then Orpah kissed Naomi and returned to her people.
But Ruth stayed by her side.
Naomi said to Ruth, "Look, your sister-in-law has returned to her people
and to the God of her ancestors. You too must go. Follow your sister-in-law."
But Ruth said to her, "Please don't ask me to leave you and turn away from your company. I swear to you:
Where you go, I will go;
where you lodge, I will lodge.
Your people will be my people,
and your God, my God.
Where you die, I'll die there too
and I will be buried there beside you.
I swear—may God be my witness and judge—that not even death will keep us apart."
Seeing that Ruth was determined to accompany her, Naomi said no more.
[Ruth 1:14-18 (ILB)/ Rut 1:14-18 (NVI)]

On this All Saints Sunday/Dia de los Muertos we hold tenderly the covenant that Ruth makes to Naomi. As we bring our memories of those we have lost, my hope is that they know that we make the same promises, the same covenant, as Ruth does to our loved ones and to our God. We may not stay in the same place or live in the same home, but the intention is the same. We will carry our loved ones with us always until we return to them and to God. And we carry them with us in all sorts of ways. Cultural traditions, words, actions, food, financial support to the sustainability of a community, clothes, memories, trinkets, and more. For me, every time I make scrambled eggs, I remember my Ema (Grandmother) who passed in 2004. She taught me on Christmas day when I was 3 how to make scrambled eggs and we made them together every Christmas day until she passed- but I still make them with her in spirit. That is a Ruth-like covenant of love.  But your covenant to your loved ones might not look the same. Family is made of lots of different types of people as Ruth and Naomi remind us. For example, this past week we established the "Pastor Kaji Douša Justice Scholarship " to honor the work Pastor Kaji does for the liberation and justice of God's people (NOTE: to make a donation to the Pastor Kaji Douša Justice Scholarship, please go to parkavenuechristian.com/give or Venmo and denote "Scholarship" in the memo with your gift). That scholarship is a way to honor the call God has placed on her heart and in this community that she is called to serve. Those that give to this scholarship are making the same type of covenant that Ruth makes to Naomi. A covenant of eternal accompaniment. What are the covenants you have made in your life? How do you carry them with you when you are apart from those you made the covenant with or for?
As I shared, this Sunday is All Saints Sunday/Dia de los Muertos and it is a time in which we remember those in our lives that have returned to God and the covenants we have made to remember them always. So, I invite you to bring your loved one with you to worship on Sunday in the form of a memory, picture, or thing that reminds you of them. These past two years we have experienced so much loss and grief and it will be impossible to name everyone in our short time together, so we will bring the spirit of our loved ones together through a time of reflection and prayer. So as to live into the covenant that Ruth calls us to that "not even death will keep us apart."
Shalom Y'all,
Rev. Stephanie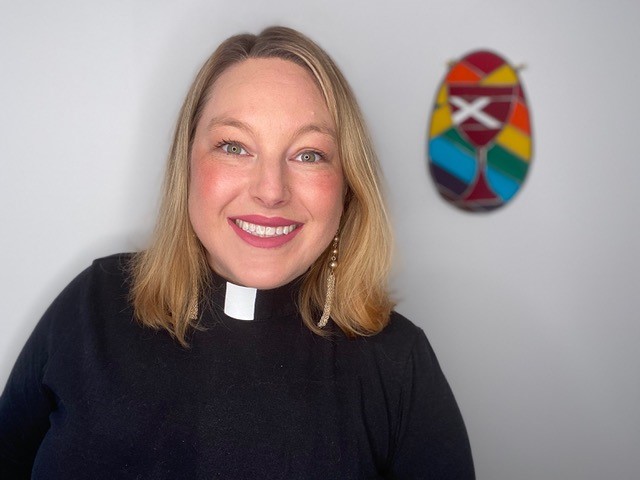 Simple Prayer: O Holy One, hold tight to my beloveds that dwell with you this day.  Amen.