"Bloom with Audacity: Parades" by The Rev. Stephanie Kendell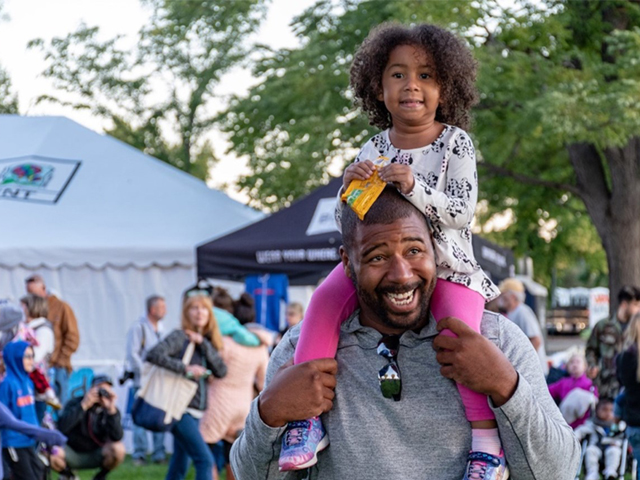 Beloved Church,
Another week has come and gone, and our hearts are still heavy with grief. Not one week had passed since the tragedy in Atlanta and we were asked to make room in our grief for more with the shootings in Colorado. As Christians, we understand grief. Next week as we come to the cross, I imagine grief will be a meaningful part of our journey together. But WandaVision said it best, "what is grief if not love persevering?" This week remember to bring your palm cross from your "Bloom Bag," and next week we hope to see you at our Holy Week services. Friends, in our valleys of grief and in our mountains of triumph God is with us. Thanks be to God for each of you.
I love a parade. Some of my earliest memories are participating in parades in my hometown to celebrate Homecoming, Fourth of July, Thanksgiving, etc. As I got older and continued to participate in parades, I would go home after and reflect on all the people I saw as we walked, and everyone it took to make that day possible. Growing up in a small town, it was also inevitable that I would see people that I knew that I hadn't seen in a while- bringing back into my memory times shared in our lives and the life that happened in-between meetings. Parades often bring joy, but they can also bring lament.
My friend Mitch was my High School Homecoming King, and the year after he died, I remember seeing pictures of that year's Homecoming parade and missing him dearly.
Parades have the ability to transcend time by gathering people from your past, present, and future.  Parades also offer an opportunity to see a larger portion of the community together at once. Why all the parade talk? Because our scripture today is all about a parade for Jesus. A parade of jubilation at Jesus coming to Jerusalem. A parade that tied them all together through faith and joy. A parade that Jesus knew would be his last. Let's read together from the book of John and Palm Sunday.
12 The next day, the great crowd that had come for the Passover feast heard that Jesus was coming to Jerusalem, 13 so they got palm branches and went out to meet him. They shouted joyfully,
"Hosanna!
Blessed is the One who comes
in the name of our God—
the ruler of Israel!"
14 Jesus rode in sitting upon a donkey, in accord with scripture:
15 "Fear not, O people of Zion!
Your ruler comes to you
sitting on a donkey's colt."
16 At the time, the disciples didn't understand all this, but after Jesus was glorified they recalled that the people had done to him precisely what had been written about him.
[John 12:12-16 (ILB)/ Juan 12:12-16 (NVI)]
I read this passage every year and it always moves me in new ways. This year, I thought about the people who would show up again next year to remember the day Jesus came back to Jerusalem. He would be there in spirit but not in body and I wonder how those people would be different a year later. I think about our community over the last year. We have gone from finding ways of just surviving, to finding places where we are now thriving- all while carrying the heaviness of the past year. We have done all of this apart from each other physically, but we continue to live in Spirit as one in the body of Christ. That is the reason we can continue to find spaces to bloom even amidst the sadness and grief – because we've been here before and we know the only way to continue to move forward- is to do it with God.
Friends, this week may be especially tender for some and joyous for others. We can hold it all with you because we hold it in community and because we hold it with God.
Shalom Y'all,
Rev. Stephanie
A quick prayer for your week: O Lord, May we always celebrate you near – in body and spirit. Amen