#BeThePark: "Be Ready" by Rebecca Stanton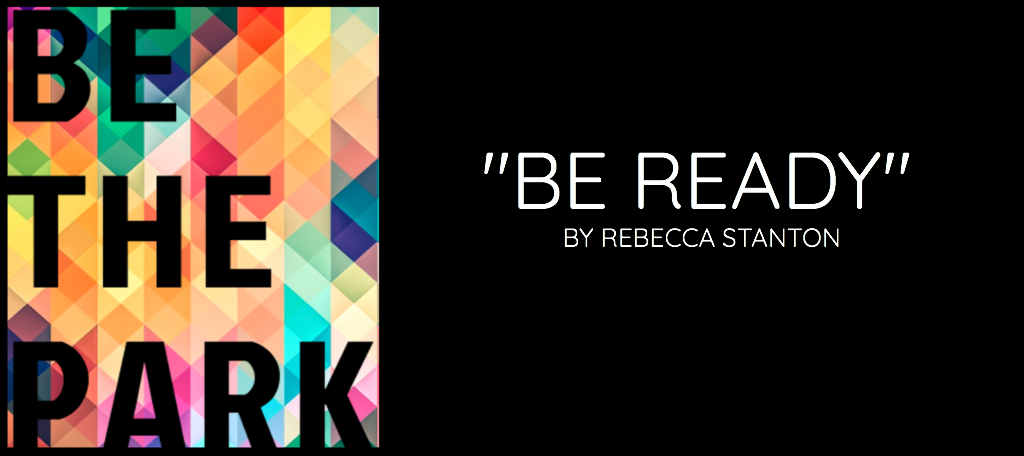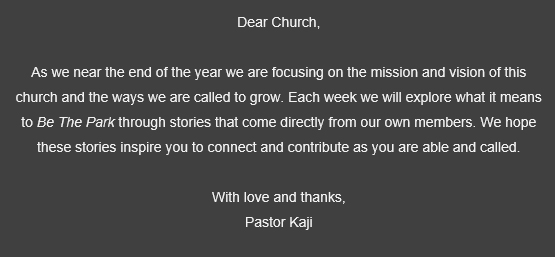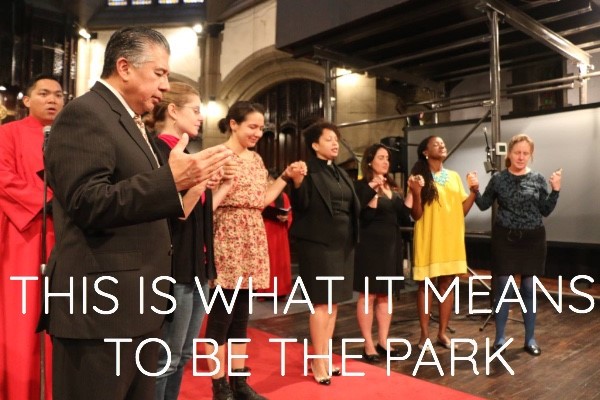 Rebecca Stanton: Why I Share my Talents and Gifts with The Park
As a rebellious daughter of a civil rights activist and feminist single mother who was a vocal atheist and determined hippy, whenever I ended up in a church for a funeral or a random Christmas service, it was a very foreign place to me, a place in which I definitely did not belong and did not feel welcome. So how did this radical find my way to The Park?  My journey began one day about seven years ago; while I was walking in a street fair on Lexington Avenue, I saw a booth for a God-centered recovery program called Lifeline, a ministry hosted by Park Avenue Christian Church. The idea of a God-centered, but welcoming and non judgemental recovery program appealed to me, and I was drawn to join. After attending Lifeline a few times, I then nervously ventured into a church service at the Park. To my great surprise I soon discovered I had accidentally found the loving and welcoming spiritual home that I had always somehow longed for.
I belong at The Park because it is a place that truly lives out the gospel of Christ through a rich variety of ministries that serve the vast diversity of the people of New York. I have been welcomed to serve in many ways at The Park, whether as a gospel choir singer, an elder, or as a member of the Ministry Council. I give of my time and talents to Park Avenue Christian Church because not only it is a community that welcomed me, but also because it a community that I can meaningfully serve in love.  The Park is an important beacon of light in this community, and is a sanctuary that is deeply needed in today's world. There are now many in our community and in our city who feel threatened by the ideology and rhetoric put forth by so many of our country's leaders.
I am proud that my gift to the Park helps us as a congregation to proclaim boldly to families and children like my new immigrant students that they are radically welcomed, and that we will have their back. I rejoice that at Park Avenue Christian Church we learn that all beings of any sexual orientation, national origin, race, ethnicity or economic background are beloved, needed, and welcome children of God.  When I volunteer my time on the ministry council or as an elder, or when I share a financial gift to The Park, I am given the blessed opportunity be an active part of that warm, radical welcome that extends out to the beautiful people of New York City and beyond into the wider community we reach through the Internet. In some ways I could say that Park Avenue Christian Church, and the Jesus I came to know here, saved my life. That is another reason why I give to my church.  I want to make sure it will always be there for those of us who need a place to call home.
I give because at The Park, no matter who you are or where you are on life's journey, you are welcome. We believe in extravagant welcome, and we insist that God's table is open, not closed. We are a church body that is multi-ethnic, multi-cultural, open and affirming, accessible to all. We advocate justice for all as an extension and expression of living, loving, and active faith. We are open to new ways of being church and forming Christian community.  I am blessed to be a part of this beloved community, and that is why I am grateful to share my talents and gifts with The Park.

Rebecca Stanton: Porqué comparto mis talentos y dones con The Park
Fui la hija rebelde de una madre soltera y activista de los derechos humanos quien no vacilaba en declarar que era atea y jipi. Cuando visitaba una iglesia para asistir a un funeral o un culto, no me sentía a gusto. No me sentía parte del grupo ni bienvenida. Te preguntarás, entonces, cómo encontré un hogar en The Park. Mi peregrinaje comenzó hace siete años, mientras caminaba por una feria comunitaria en la avenida Lexington. Me topé con una caseta de información sobre un tipo de recuperación fundamentada en Dios, llamada Lifeline. Era un ministerio auspiciado por Park Ave Christian Church. La idea que un programa de recuperación estuviera centrado en Dios, y que fuera de puertas abiertas sin emitir juicios, me atrajo y acabé formando parte del ministerio. Luego de asistir varias veces, con duda me aventuré y asistí un servicio de adoración en The Park. Fue una grata sorpresa encontrar que sin querer había encontrado un hogar espiritual caluroso y amable con el cual siempre había soñado.
Soy parte de The Park porque es un lugar donde se practica el Evangelio cristiano de manera auténtica a través de una variedad de ministerios que sirven a la comunidad multicultural de Nueva York. Se me ha invitado a servir de muchas maneras en The Park, cantando música Gospel, como Anciana o como miembro del junta de gobierno. No solo doy de mi tiempo y dono mis talentos a Park Avenue Christian Church porque es una comunidad que me dio la bienvenida, sino porque es una comunidad donde puedo servir en amor de manera importante. The Park representa un faro de luz en esta comunidad, además de ser un santuario muy necesitado en el mundo de hoy. Vivimos tiempos donde muchos en nuestra comunidad y ciudad se sienten amenazados por la retórica e ideología que diseminan tantos líderes en este país.
Me siento orgullosa que mi ofrenda a The Park nos ayuda como congregación a proclamar con valentía a las familias y niños, como a mis estudiantes inmigrantes recién llegados, que son bienvenidxs no importa qué y que lxs apoyamos ante toda adversidad. Me gozo que en Park Avenue Christian Church aprendemos que todo ser humano de cualquier orientación sexual, nacionalidad, raza, etnia o clase social es amadx, necesarix y bienvenidx como hija o hijo de Dios. Cuando ofrezco mi tiempo en la junta de gobierno, como Anciana, o cuando comparto mis dones monetarios a The Park, a la misma vez, soy bendecida por ser parte activa de una bienvenida radical y calurosa que se derrama sobre el hermoso pueblo de esta ciudad y se extiende a la comunidad cibernética. Puedo decir que esta iglesia y al Jesús que conocí por medio de ella, salvó mi vida. Esa es otra razón por la que ofrendo en esta iglesia. Quiero asegurarme que siempre estará presente para aquellos que necesitan un hogar espiritual.
Doy mi ofrenda porque en The Park, no importa quién eres o dónde te encuentras en tu vida, eres siempre bienvenida. Creemos en una bienvenida radical, e insistimos que la Mesa de Dios está abierta, sin excluir a nadie. Nuestra iglesia es multilingüe, multicultural, y le da la bienvenida a las personas LGBTQ y a todxs. Luchamos por la justicia para todxs como una extensión y expresión de una fe viva, amorosa y en la lucha. Estamos dispuestos a aprender nuevas formas de ser iglesia y de construir una comunidad cristiana. Es una gran bendición ser parte de esta amada comunidad, y por eso es que estoy agradecida de compartir mis dones y talentos con The Park.
Please consider a tax-deductible donation today to connect and contribute to our ministries! 100% of your gift goes directly into our programs.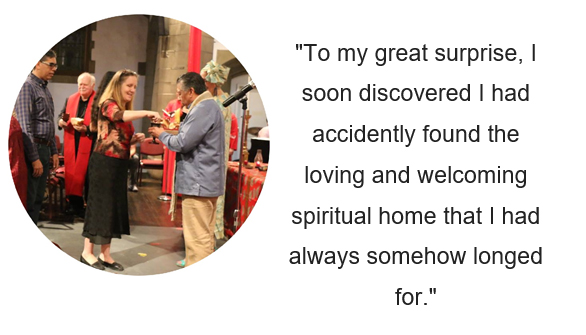 100% of your tax-deductible donation goes directly into our programs and ministries.