Pastoral Residency Opportunity at The Park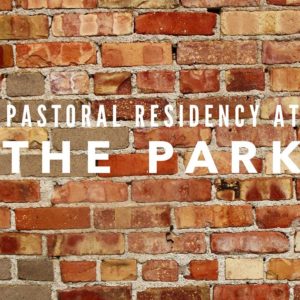 TABLE OF CONTENTS
Description
Timeline
Eligibility
Application Process
Application Checklist
The transition to formal, authorized ministry is one of the most exciting and difficult times in a minister's development. On the one hand, ministers close to the point of authorization are delighted to dig deep into their calls. On the other hand, they are often placed in positions that more seasoned clergy would not take on themselves. On top of this, they can be disconnected from peers, placed in settings where they have to begin support systems from scratch. Because of this, fresh ministers often burnout before their ministries even have a chance to begin.
Here at The Park, following the model of the Lilly Endowment's successful Transition into Ministry program (a program that nurtured our own Senior Pastor) we have decided to begin our own Pastoral Residency program for a Master's of Divinity graduate in the class of 2017. This program will last one year beginning June 1, 2017, with the possibility of extending for an additional year.
The Pastoral Resident will work full-time through the breadth of pastoral responsibilities in this exciting, justice-focused congregation seeking to follow Jesus in service to New York City. This will include teaching, preaching, care and justice organizing. Throughout the work, the Resident will have the opportunity to collaborate with other ministers in transition and seminarians who, together will benefit from the mentorship of the more seasoned clergy at The Park. The Resident will work on building ministerial skills and habits to sustain a lifelong call to pastoral leadership. Additionally, the Resident will be supported and guided through the complexities of the Search and Call process for their next position after completing the Residency.
Pastoral Residents receive a full-time salary and health insurance benefits not to exceed $52,000. The position is an ordainable call.
Prospective Residents are invited to submit a letter of intent by February 20 (instructions for this letter are detailed in the Application Process section below). The overall application deadline is March 1. Applications will be reviewed by the Senior Pastor and a committee of the congregation's Elders in early March with interviews beginning in mid-March. The committee will present candidates for final decision by the Senior Pastor. A final offer will be submitted by early April.
To summarize:
By February 20: Letter of Intent Submitted
By March 1: Written References must be received; Application Questionnaire submitted
Early March: Application review, invitations for interviews extended
Mid March: Interviews begin
Early April: Call extended (pending background check)
A Master's of Divinity from an accredited Divinity School or Seminary in class year 2017.
Successful completion of Criminal Background Check through the Disciples of Christ (contact your Regional Minister for more information) or via the UCC's Oxford Documents Criminal Backgrounds Check. Please note that applicants will not need to submit the background check before applying, the background check just must be successful before hiring.
Authorization for Ordained Ministerial Standing in the Christian Church (Disciples of Christ) or United Church of Christ
Availability to begin June 1, 2017.
Submit a letter of intent by February 20, 2017 to pastoralresidency@parkavenuechristian.com answering the following questions:
a. Why do you want to do this program?
b. Why would you want to serve a congregation in New York City?
c. What excites you about serving The Park?
2. Gather three written references to be submitted by March 1, 2017 to pastoralresidency@parkavenuechristian.com and the contact information of three additional people willing to serve as phone references.
a. Written references should indicate:
i. Their relationship to you (no family members),
ii. How long they have known you,
iii. Why they recommend you for this position.
b. Phone references will be included in your application questionnaire.
3. Complete the application questionnaire by March 1, 2017.
Letter of Intent Submitted by February 20, 2017
Written References Submitted by March 1, 2017
Application Questionnaire Complete by March 1, 2017
For further information about applying to the Pastoral Residency Program please email info@parkavenuechristian.com or call 212.288.2346.