Lenten Reflection for March 10, by Hillary Buckland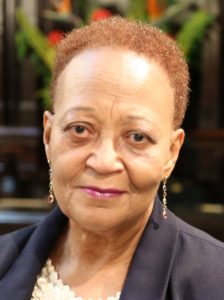 Psalm 121
A Song of Ascents.
I lift up my eyes to the hills—
from where will my help come?
My help comes from the Lord,
who made heaven and earth.
He will not let your foot be moved;
he who keeps you will not slumber.
He who keeps Israel
will neither slumber nor sleep.
The Lord is your keeper;
the Lord is your shade at your right hand.
The sun shall not strike you by day,
nor the moon by night.
The Lord will keep you from all evil;
he will keep your life.
The Lord will keep
your going out and your coming in
from this time on and for evermore.
Reflection
Psalm 121 is very special to me. Shortly after our wedding in 1967 I wrote to my Mother and Father in Law who I did not know. In their reply my Father-in-Law told me to read Psalm 121 every day, which I still do.
This is one of my favorite passages. This  beautiful song can be used for any and every occasion. The psalm was originally one used for ascending the hill into Jerusalem.  In other words, it anticipates meeting with God. The psalmist was looking forward to meeting God. The psalm is rich with a theology of grace, watch care, and loving attention. Our powerful and merciful God is able to help us, and is  desiring to do so. This psalm is telling us over, and over again that in every situation of life, The Lord will protect us from stumbling, night or day. In each unwanted circumstance the psalm can be used as an immediate prayer, and with every anticipated event, it can provide the words to address the most pressing of needs.
Brothers and Sisters in Christ, our God watches over us constantly and loves us.
Prayer
Gracious Lord, we praise You, we adore You.  Amazing and powerful Lord, we thank You for loving us so dearly, we thank You for guiding our lives, and ruling all creation.  Please guide and protect the leaders of the world,  and give them wisdom as they make decisions. Heavenly Father, please send Your peace on earth. Dear Lord, we thank You. Amen.
###
Hillary Buckland is a long-standing member of The Park, an Elder, former Treasurer, and member of the Finance Team and Nominating Committees.