"Inspire Something New: Apart – Together" by The Rev. Stephanie Kendell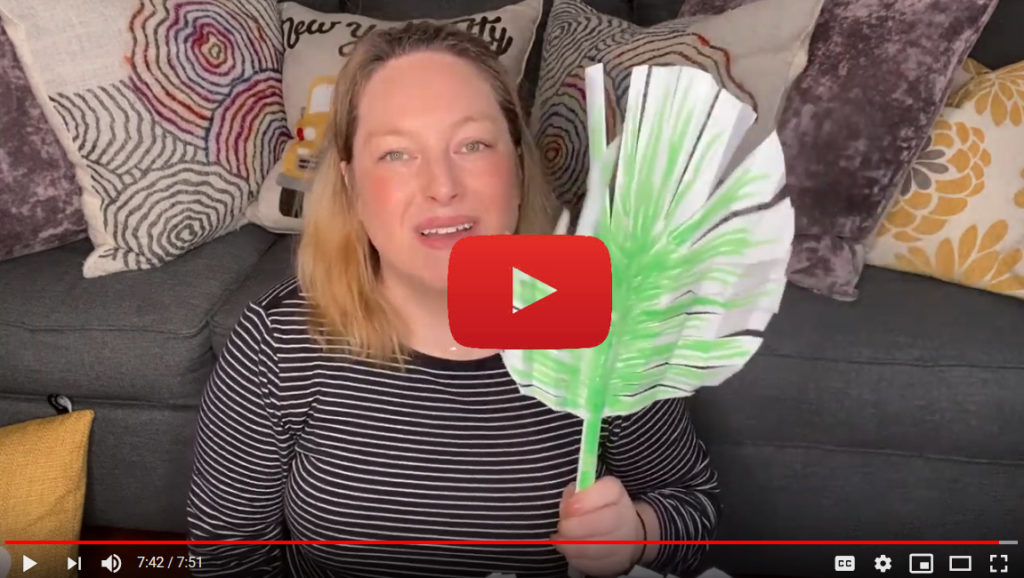 Beloved Church,
Hi. This feels about as much as we can all muster up right now, right? A, "hi" filled with nothing but love and care and grief, and a longing to be with each other. Hi, friends. I miss you. And I know none of us are "well" and that, at this point, "well" is a sliding scale of health and grief. Just know that I am praying for you. I am praying for those that are ill that you are healed and have some comfort. I am praying for those that grieve that they may know peace. I am praying that all of us take care of ourselves and offer grace to others, because care looks different for each of us. I am praying that as much as I long to see each of you, I hope I don't see you for a while; so, that at one point I can see you again. I pray often but right now, every breath I release is filled with love and hope for each of you.
Can you believe that it is almost Palm Sunday? For me right now, self-care looks like sticking to a routine or tradition and my tradition for Palm Sunday every year has always been to wave palm fronds with my church. So, I hope you have seen the video I made for us to continue this tradition, that walks you and your family through the easy steps of making palm fronds at home. Once you are done, make a boomerang, take a picture, or make a video and tag us @ThePark1010 and use the hashtag #PalmSundayAtThePark and we will feature your videos on our Instagram and Facebook feeds.
Following my letter you will find this week's scripture.  Its long. But I invite you to read it through a couple of times. Don't look for meaning or "the lesson." This practice is called "Lectio Divina" which means "divine reading," and it is meant to help you meditate on the words of God, to open your heart and mind to what God is saying.
Friends, I know it's a lot. Life is a lot. I feel it in my bones. I know it in our scripture. But I also know that our incarnate God is with us no matter how we are apart. I hope that brings you the same comfort it does me.
Shalom Y'all,
Rev. Stephanie
A quick prayer for your week: God, I know you are with me in this time of distance. Amen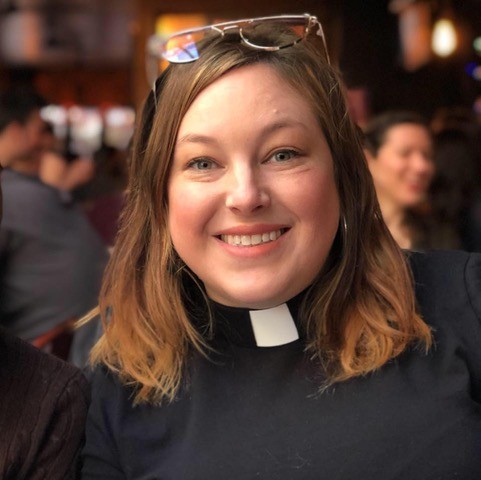 Lectio Divina
Mark 14: 12-21
12 On the first day of the Feast of Unleavened Bread, when it was customary to sacrifice the paschal lamb, the disciples said to Jesus, "Where do you want us to prepare the Passover supper for you?"
13 He directed two of the disciples and said to them, "Go into the city, and you will come upon a man carrying a water jar. Follow him 14 into a house he enters and say to the owner, 'The Teacher asks, "Where is my guestroom? I want to eat the Passover meal there with my disciples."' 15 Then you will be shown an upstairs room, spacious, furnished, with everything in order. That is the place you are to get ready for us."
16 Then the disciples went off. When they reached the city, they found it just as Jesus had told them, and they prepared the Passover supper.
17 As it grew dark, Jesus arrived with the Twelve. 18 They reclined at table, and in the course of the meal Jesus said, "The truth is, one of you is about to betray me—one who is eating with me."
19 They were very upset at these words, and one by one they said to him,
"Surely it's not me!"
20 Jesus replied, "It is one of you Twelve—one who dips into the dish with me.
21 The Chosen One is going the way the scriptures foretell. But woe to the one by whom the Chosen One is betrayed! It were better had that person never been born."
Mark 14: 32-65
32 Then they came to a place named Gethsemane. Jesus said to them, "Sit down here while I pray." 33 Jesus took along with him Peter, James and John. Then he began to be very distressed and troubled, 34 and said to them, "My heart is filled with sorrow to the point of death. Stay here and keep watch."
35 Jesus went a little further off and fell to the ground, praying that if it were possible this hour might pass him by. 36 He said, "Abba, you have the power to do all things. Take this cup away from me. But let it be not my will, but your will."
37 When Jesus returned he found them asleep. He said to Peter, "Asleep, Simon? Could you not stay awake for even an hour? 38 Be on guard and pray that you not be put to the test. The spirit is willing, but the flesh is weak."
39 Going back again, Jesus began to pray in the same words. 40 Upon returning Jesus found them asleep once again. They could not keep their eyes open, nor did they know what to say to him.
41 He returned a third time and said, "Still sleeping? Still taking your rest? It will have to do. The hour is upon us—the Chosen One is being handed into the clutches of evildoers. 42 Get up, let's go. Look! Here comes my betrayer."
43 While Jesus was still speaking, Judas, one of the Twelve, came up accompanied by a crowd carrying swords and clubs; they had been sent by the chief priests, the religious scholars and the elders. 44 The betrayer had arranged this signal for them: "Whomever I embrace is the one; arrest him and take him away under guard." 45 Judas went directly to Jesus, embraced him and said, "Rabbi!" 46 At this, they laid hands on Jesus and arrested him.
47 One of the bystanders drew a sword and struck the high priest's attendant, cutting off an ear. 48 Jesus then said, "Why have you come to arrest me with swords and clubs, as though I were a robber? 49 I was within your reach daily, teaching in the Temple precincts, yet you never arrested me. But let the scriptures be fulfilled."
50 With that, all the disciples deserted Jesus and fled. 51 Following Jesus was a youth wearing nothing but a linen cloth, whom they also tried to arrest 52 but who fled naked, leaving the cloth behind.
53 Then they led Jesus off to the high priest, and all the chief priests, elders and religious scholars gathered together. 54 Peter followed at a distance right into the high priest's courtyard, where he found a seat with the Temple guard and began to warm himself at the fire.
55 The chief priests with the whole Sanhedrin were busy soliciting testimony against Jesus that might lead to his death, but they could not find any. 56 Many gave false testimony against Jesus, but their stories did not agree. 57 Some, for instance, on taking the stand, testified falsely by saying, 58 "We heard him declare, 'I will destroy this Temple made by human hands, and in three days I will build another made without hands!' " 59 But even in this, their testimony did not agree.
60 The high priest stood up before the court and began to interrogate Jesus: "Have you no answer to what these people are testifying against you?" 61 But Jesus remained silent and made no reply. Once again the high priest interrogated him: "Are you the Messiah, the Only Begotten of the Blessed One?"
62 Jesus replied, "I am! And you will see the Chosen One seated at the right hand of the Power and coming with the clouds of heaven."
63 At that, the high priest tore his robes and said, "What further need do we have of witnesses? 64 You have heard the blasphemy. What is your verdict?" They all said Jesus was guilty and condemned him to death.
65 Some of them began to spit on Jesus. They blindfolded and hit him, saying, "Prophesy!" The guards beat him too.
Mark 15:1-32
1 As soon as it was daybreak the chief priests, the elders and religious scholars and the whole Sanhedrin reached a decision. They bound Jesus and led him away, and handed him over to Pilate, 2 who interrogated him. "Are you the King of the Jews?" he asked.
Jesus responded, "You are the one who is saying it."
3 The chief priests then brought many accusations against him. 4 Pilate interrogated Jesus again: "Surely you have some answer? See how many accusations they are leveling against you!" 5 But to Pilate's astonishment, Jesus made no further response.
6 Now whenever there was a festival, Pilate would release for them one prisoner—anyone they asked for. 7 There was a prisoner named Barabbas who was jailed along with the rioters who had committed murder in the uprising. 8 When the crowd came to ask that Pilate honor the custom, 9 Pilate rejoined, "Do you want me to release for you the King of the Jews?" 10 Pilate was aware, of course, that it was out of jealousy that the chief priests had handed Jesus over. 11 But the chief priests incited the crowd to have him release Barabbas instead. 12 Pilate again asked them, "What am I to do with the one you call the King of the Jews?"
13 The people shouted back, "Crucify him!"
14 "Why?" Pilate asked. "What crime has he committed?"
But they shouted all the louder, "Crucify him!"
15 So Pilate, wishing to satisfy the crowd, released Barabbas to them, and, after having Jesus scourged, handed him over to be crucified.
16 The soldiers led Jesus away into the hall known as the Praetorium; then they assembled the whole battalion. 17 They dressed Jesus in royal purple, then wove a crown of thorns and put it on him. 18 They began to salute him: "All hail! King of the Jews!" 19 They kept striking Jesus on the head with a reed, spitting at him and kneeling in front of him pretending to pay homage. 20 When they had finished mocking him, they stripped him of the purple and dressed him in his own clothes. Then they led him out to be crucified.
21 A passerby named Simon of Cyrene, the father of Alexander and Rufus, was coming in from the fields. The soldiers pressed him into service to carry Jesus' cross. 22 Then they brought Jesus to the site of Golgotha—which means "Skull Place."
23 They tried to give him wine drugged with myrrh, but he would not take it. 24 Then they nailed him to the cross and divided up his garments by rolling dice for them to see what each should take. 25 It was about nine in the morning when they crucified him.
26 The inscription listing the charge read, "The King of the Jews." 27 With Jesus they crucified two robbers, one at his right and one at his left. 28 "This fulfilled the scripture, 'He let himself be counted among sinners.' "
29 People going by insulted Jesus, shaking their heads and saying, "So you were going to destroy the Temple and rebuild it in three days! 30 Save yourself now by coming down from that cross!" 31 The chief priests and the religious scholars also joined in and jeered, "He saved others, but he can't save himself! 32 Let 'the Messiah, the King of Israel' come down from that cross right now so that we can see it and believe in him!" Those who had been crucified with him hurled the same insult.