"Inspire Authenticity: Names" by The Rev. Stephanie Kendell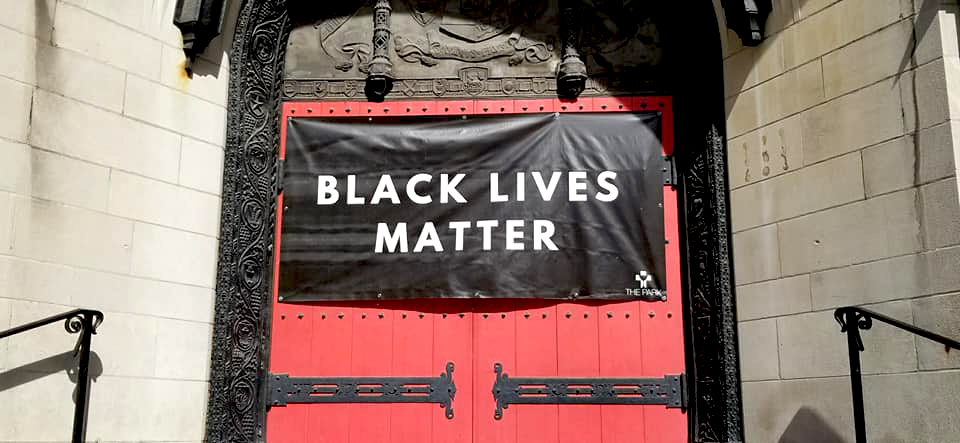 Beloved Church,
I am not sure what I can say about this week. I hope that you are safe and healthy. I hope that you are loved and cared for. I hope that you are wrestling with your privilege and lamenting your sins. To the black community, I hope that you are careful and gracious with your precious selves. To the non-black people and communities, I hope you are offering support and love and rest to your black friends, family members, and the wider community. We will have more to say this week in worship and in the continuous spaces that we are occupying seeking justice. Your pastors are here for you. To pray with you. To lament with you. To grow with you. But as I said last week, The Park and its leadership will not use comfort as a shield or faith as a weapon- or a prop! We are a people and a church of action because we are a church that follows Jesus.
This week I really don't have the words, but I do have a non-exhaustive list of names. Most of the people on this list were killed by state sanctioned violence, all were killed by the sin of anti-black violence and racism. So, I will let the scripture speak asking you to pay close attention to the line I put in bold. After the scripture I ask that you read the names that are listed on the bottom and closing that time of prayer with the phrase in bold.
Then God said, "Let us make humankind in our image, to be like us.  Let them be stewards of the fish in the sea, the birds of the air, the cattle, the wild animals, and everything that crawls on the ground."
Humankind was created as God's reflection:
in the divine image God created them;
female and male, God made them.
God blessed them and said, "Bear fruit, increase your numbers, and fill the earth—and be responsible for it! Watch over the fish of the sea, the birds of the air, and all the living things on the earth!"  God then told them, "Look! I give you every seed-bearing plant on the face of the earth, and every tree whose fruit carries its seed inside itself: they will be your food; and to all the animals of the earth and the birds of the air and things that crawl on the ground—everything that has a living soul in it—I give all the green plants for food." So it was. God looked at all of this creation and proclaimed that this was good—very good. Evening came, and morning followed—the sixth day. (Genesis 1:26-31 [ILB])
… "In the Divine Image God created them."
ERIC GARNER – JOHN CRAWFORD III – MICHAEL BROWN – EZELL FORD – DANTE  PARKER – MICHELLE CUSSEAUX – LAQUAN MCDONALD – TANISHA ANDERSON – AKAI GURLEY – TAMIR RICE – RUMAIN BRISBON – JERAME REID – GEORGE MANN – MATTHEW AJIBADE – FRANK SMART – NATASHA MCKENNA – TONY ROBINSON – ANTHONY HILL – MYA HALL – PHILLIP WHITE – ERIC HARRIS – WALTER SCOTT – WILLIAM CHAPMANI – ALEXIA CHRISTIAN – BRENDON GLENN – VICTOR MANUEL LAROSA – JONATHAN SANDERS – FREDDIE BLUE – JOSEPH MANN – SALVADO ELLSWOOD – SANDRA BLAND – ALBERT JOSEPH DAVIS – DARRIUS STEWART – BILLY RAY DAVIS – SAMUEL DUBOSE – MICHAEL SABBIE – BRIAN KEITH DAY – CHRISTIAN TAYLOR – TROY ROBINSON – ASSHAMS PHAROAH MANLEY – FELIX KUMI – KEITH HARRISON MCLEOD – JUNIOR PROSPER-LAMONTEZ JONES – PATTERSON BROWN – DOMINIC HUTCHINSON – ANTHONY ASHFORD – ALONZO SMITH – TRAYVON MARTIN – TYREE CRAWFORD – INDIA KAGER – LA'VANTE BIGGS – MICHAEL LEE MARSHALL – JAMAR CLARK – RICHARD PERKINS – NATHANIEL HARRIS PICKETT – BENNI LEE TIGNOR – MIGUEL ESPINAL – MICHAEL NOEL – KEVIN MATTHEWS – BETTIE JONES – QUINTONIO LEGRIER – KEITH CHILDRESS JR. – JANET WILSON – RANDY NELSON – ANTRONIE SCOTT – WENDELL CELESTINE – DAVID JOSEPH – CALIN ROQUEMORE – DYZHAWN PERKINS – CHRISTOPHER DAVIS – MARCO LOUD – PETER GAINES – TORREY ROBINSON – DARIUS ROBINSON – KEVIN HICKS – MARY TRUXILLO – DEMARCUS SEMER – WILLIE TILLMAN – TERRILL THOMAS – SYLVILLE SMITH – ALTON STERLING – PHILANDO CASTILE – TERENCE CRUTCHER – PAUL O'NEAL ALTERIAWOODS – JORDAN EDWARDS – AARON BAILEY – RONELL FOSTER – STEPHON CLARK – ANTWON ROSEI – BOTHAM JEAN – PAMELA TURNER – DOMINIQUE CLAYTON – ATATIANA JEFFERSON – CHRISTOPHER WHITFIELD – CHRISTOPHER MCCORVEY – ERIC REASON – MICHAEL LORENZO DEAN – AHMAUD ARBERY – SEAN REED – BREONNA TAYLOR – NINA POP – GEORGE FLOYD – TONY MCDADE – AND THOSE UNRECORDED, UNPUBLISHED, AND UNKNOWN.
Lord, we say their names and recognize that, "In the Divine Image God created them."
Shalom Y'all,
Rev. Stephanie
A quick prayer for your week: O Lord who weeps with us, draw near. Amen