"Bloom with Expansiveness: A New York Minute" by The Rev. Stephanie Kendell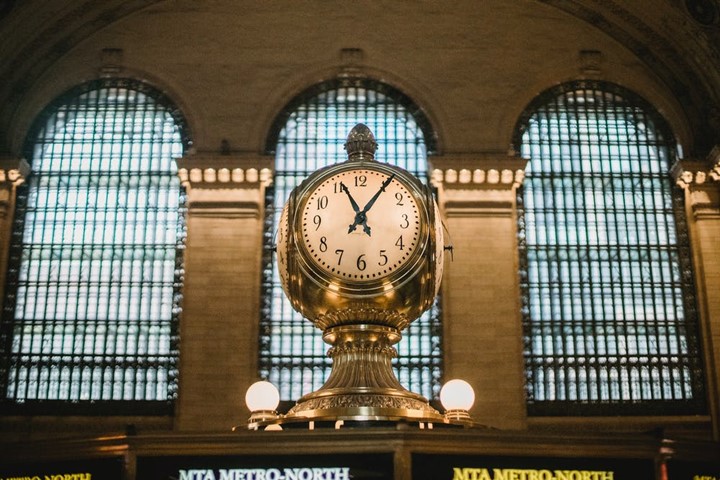 Beloveds,
What a gift it is to serve this community. It seems like such a simple thing, but as I have talked with many of you in the past week, making sure that you were safe and cared for after the storms of last week (both the physical and emotional ones), I was reminded time and time again how grateful that I am God called me to serve with and for this church. If I didn't talk to you this past week, and you are in need in any way, please do reach out. You are a beloved part of this community. I continue to pray for each of you as we move into the fall- a time of reflection and preparation. In fact, Advent starts in just 81 days. Just typing that had me opening my calendar app and double checking. This year has sure flown by quickly and while we are not together in person as we hoped to be, continuing to do the hard thing of keeping each other safe through digital worship, we know we are always together in spirit.
I want to offer a special blessing to all of our young ones who are headed back to school, and their parents and caretakers. For our young ones – May the year ahead be filled with curiosity, wonder, and growth. May God's love be shown to you every day and in every way. And remember when you feel stuck or have a hard day, ask for help and know that grace and patience are all part of the learning journey. You've got this!  We are praying for you and know that God is with you in all you do.  And for our Parents and Caretakers – May you know your young one is in the hands of God when they are out of your reach. May you feel heard and find support when asking questions about your child's health and learning needs. May your young ones always be safe in their body, mind, and spirit. You've done what you can – they've got this – and it's thanks to you and the love and support you have given them from the day they came into your life. We are praying for you and know that God is with you in all you do.
This week is going to be hard for all of us as we remember the trauma of September 11th, 2001. It is one of those days that if you were old enough to know what was happening, you remember exactly where you were and all the emotions of that time. 20 years seems like both a long time ago – but the day itself seems to be much less far away. Memories, especially ones that are formed in trauma- can often transcend time in that way. I didn't live in New York then, but I know many of you did. Many of you lost so much that day including loved ones. So, this week, I hope you will do what you need to care for yourself. Be gentle in your grief and reach out when you feel that tug of longing. I will be downtown on Saturday, offering prayers as I do every year. I will be praying for each of you as well. Traumatic anniversaries, pandemics, and violent storms all in one week is too much for any one person to process alone. Make time with your therapist, call a loved one, social distance with a friend. But always remember that you are so loved and a valued part of God's community.
This is a lot, friends, as Don Henley sings, "In a New York Minute, everything can change," and we have felt that in our bones this past week, these past two years, and these past 20 years. But somethings like God's love for each of us and the love we are called to grow and care for in community are forever. May we be reminded that scripture can be a form of community love and care. Paul in his letter to the Romans that we read from today, has a message for such a time as this. A message that speaks to the vacillating and myriad of emotions that accompany life.
9 Your love must be sincere. Hate what is evil and cling to what is good.
10 Love one another with the affection of sisters and brothers. Try to outdo one another in showing respect.
11 Don't grow slack but be fervent in spirit: the One you serve is Christ.
12 Rejoice in hope; be patient under trial; persevere in prayer.
13 Look on the needs of God's holy people as your own; be generous in offering hospitality.
14 Bless your persecutors—bless and don't curse them.
15 Rejoice with those who rejoice, weep with those who weep. 16 Have the same attitude toward everyone.
Don't be condescending to those who aren't as well off as you; don't be conceited.
17 Don't repay evil with evil.
Be concerned with the highest ideal in the eyes of all people.
18 Do all you can to be at peace with everyone.
19 Don't take revenge; leave room, my friends, for God's wrath. To quote scripture, "'Vengeance is mine, I will pay them back,' says our God." 20 But there is more:
"If your enemies are hungry, feed them;
if they are thirsty, give them drink.
For in doing so, you will heap burning coals
upon their heads."
21 Don't be overcome by evil but overcome evil by doing good.
[Romans 12:9-21 (ILB)/ Romanos 12:9-21 (NVI)]
Friends, take care of yourself this week. Rest when you can. Find joy where you can. It is normal and good to remember and reflect on the past, but don't neglect your present, or forget that God is calling you into a future that we are all building together. A future of loving care in this beloved community.  A future that is the Kindom of God's eternal embrace.
Shalom Y'all,
Rev. Stephanie
Simple Prayer: O Holy One Draw Near. O Holy One Draw Near. O Holy One Draw Near. Amen.