Continuing April 19: "Examining Your Wallet"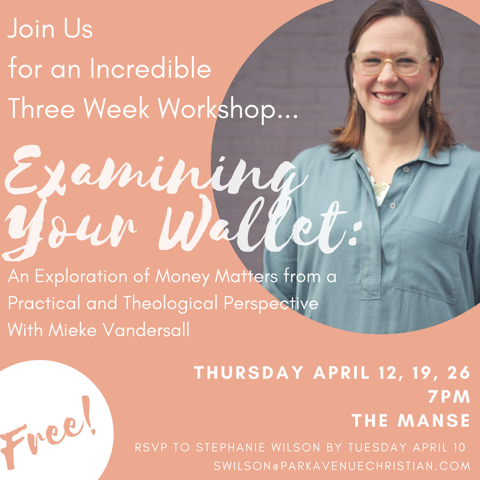 Money carries a lot of weight in all of our lives, but the weightiness often goes unexamined. That weight without examination, however, can get in the way of our spiritual and fiscal health. In this three-part series, we will examine what makes up our financial stories, and what God has to do with it. We will do this through exploration of the Bible, and the theologies of money that we find within it, in addition to our own experiences and their grounding in the particularity of the culture that has had a hand in creating us.
The hope is that through this workshop we might bring a fresh energy to the ways that money holds us back and can propel us forward into living into God's call on our lives.
While each part of the series builds on each other, we welcome you to one, or all parts.
Mieke Vandersall is an ordained pastor in the Presbyterian Church (U.S.A.) and a fundraising and communications consultant. She is working on The Park's capital campaign with us. She is the principal of Vandersall Collective, a boutique firm in New York City, in addition to the church planter for the congregation called Not So Churchy. Mieke is a graduate of the College of Wooster and Union Theological Seminary in the City of New York.