#BeThePark: "Be Here" by The Rev. Kaji Douša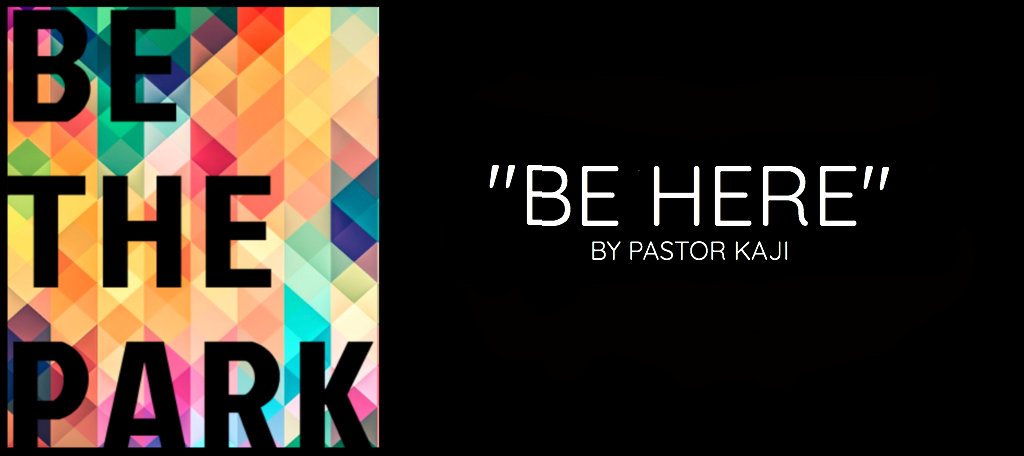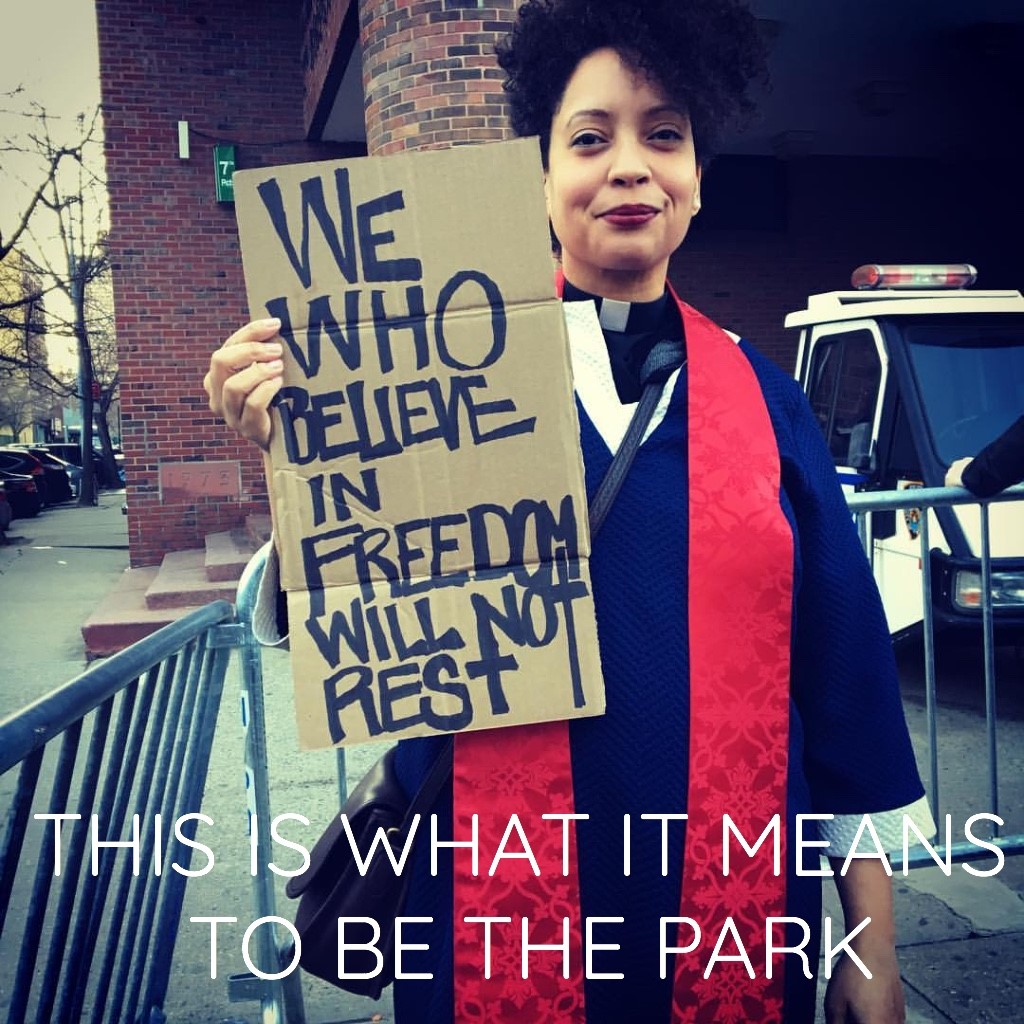 Dear Church:
I hope that you have been delighting in hearing the stories coming out of the Park in these past few weeks as much as I have. We invited people to share what it means to them to Be The Park, and I find myself even more inspired than ever to live and serve Jesus Christ through the ministry of this amazing congregation. We are because of you, and if we have not thanked you enough for this please hear it now:
Thank you. 
This week's Be The Park theme is to Be Here. There is something to the collective power of our witness and presence that buoys our common work together in ways that just are not possible without you. Which is why we are making a consistent invitation for each of us to connect and contribute to the ministries at the Park.
Thanks to the incredible gift of our real estate, our congregation is in the rare position of being able to cover all administration and overhead costs through our endowment. What this means is that 100% of the financial contributions that you and I make go directly into specific ministries that help people. Few congregations are able to make this kind of promise, but we can, thanks be to God.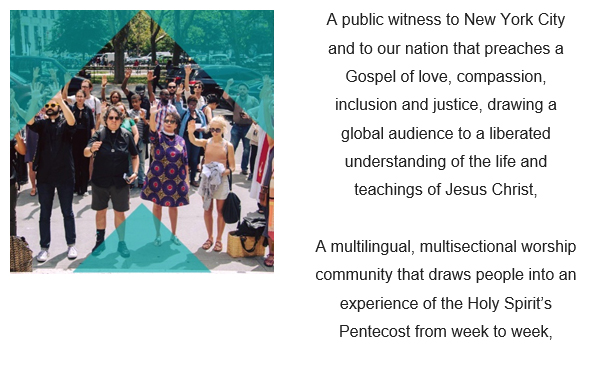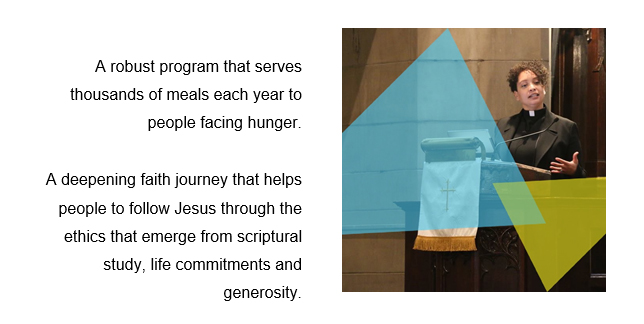 To Be Here, we give of our time and our money so that this important work can not only continue but grow.
Which is why we invite you to renew your commitment to The Park today by offering to connect and contribute as we enter advent and the new year of church.
God has so much to do with each of us.
Right here.
Right now.
We would love to connect with you right here. Right now.
We would love to invite your contributions anew right here. Right now.
The Park needs you now more than ever. Maybe you need the Park now more than ever, too. 
Thank you for your willingness to Be Here. With this amazing community.
Thank you for your openness to connect and contribute today.
Pax Christi,
Pastor Kaji

Querida iglesia,
Espero que hayan disfrutado, al igual que yo, de las historias de las últimas semanas que se están generando desde The Park. Hemos invitando a que personas compartan lo que significa para ellxs 'Ser The Park' y cada vez me siento más inspirada que nunca de vivir y servir a Jesucristo a través del ministerio de esta increíble congregación. Existimos gracias a ti y si no te lo hemos dicho lo suficiente, lo volvemos a reiterar:
Gracias.
Esta semana el tema de Be The Park (Ser The Park) es estar aquí. Hay algo sobre el poder colectivo de nuestro testimonio presencial que marca nuestro trabajo en común de maneras que simplemente no son posibles sin ti. Esta es la razón por la cual le estamos extendiendo una invitación a ser parte de los ministerios de The Park—¡Conéctate y contribuye!
Gracias al valioso regalo de nuestra propiedad inmueble, esta congregación se posiciona en una situación peculiar donde puede cubrir todos los gastos administrativos por medio de nuestro fideicomiso. Esto significa que el 100% de nuestras contribuciones van dirigidas a ministerios específicos que ayudan al Pueblo de Dios. Pocas congregaciones tienen la capacidad de hacer este tipo de promesa, sin embargo, podemos, demos gracias a Dios.
¿Cuáles son estos ministerios? Permítanme mencionar unos cuantos:
Servir de testigo público en la ciudad de Nueva York y de nuestra nación, predicando un Evangelio de amor, compasión, inclusividad y justicia, atrayendo a una comunidad global a un entendimiento liberador de la vida y las enseñanzas de Jesucristo,
Una comunidad de adoración multilingüe e inter seccional que invita a la comunidad a experimentar el Pentecostés del Espíritu Santo semana tras semana,
Un programa robusto que da de comer a miles que viven con hambre en la ciudad,
Un peregrinaje profundo de fe que nos ayuda a seguir a Jesús a partir de la ética que surge del estudio bíblico, los compromisos de vida y la generosidad,
Un análisis serio sobre los abusos de poder, la violencia sexual, la violencia entre parejas con el apoyo pastoral y programático,
Una oración carismática y un ministerio de visitación que toma con sagrada estima las necesidades de los Santos,
Un compromiso por la justicia de Dios a través del ministerio interreligioso que incluye Un Santuario para inmigrantes y las personas que encaran deportación,
Una comunidad de fe creciente y vigorosa para lxs que se sienten perdidxs y lxs que están 'cansadxs', en particular a los 'Millenials' [jóvenes entre 17 a sus 30 y pico], que muchas veces se ven como los más difíciles de alcanzar pero quienes se acercan a nuestra labor…
…y mucho más…
Cuando Estamos aquí, damos de nuestro tiempo y dinero para que este trabajo importante no solo continúe, pero crezca.
Es por esto que te invitamos a renovar hoy tu compromiso con The Park aportando tu ofrenda al comenzar el Adviento y el Nuevo año eclesial para que te conectes y contribuyas.
Dios tiene tanto que hacer con cada unx de nosotrxs.
Aquí mismo.
Ahora mismo.
Queremos conectar contigo aquí mismo. Ahora mismo.
Queremos invitarte a que renueves tus contribuciones, aquí mismo. Ahora mismo.
The Park te necesita más que nunca. Quizás tú también necesitas a The Park más que nunca.
Gracias por tu disponibilidad a Estar aquí, con esta increíble comunidad.  
Estamos agradecidxs por tu disposición de contectarte y contribuir hoy.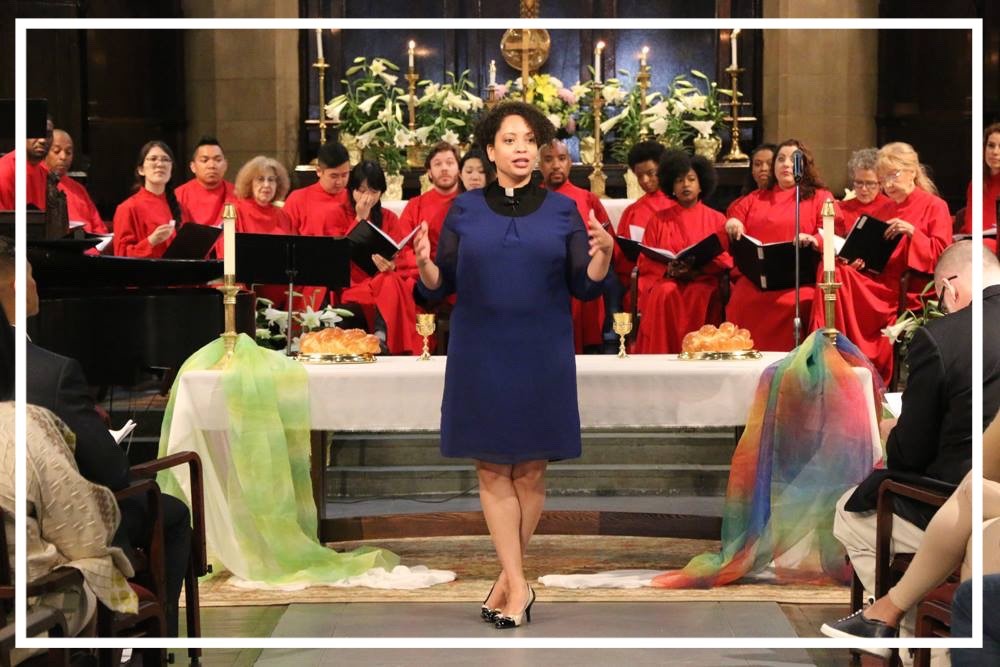 100% of your tax-deductible donation goes directly into our programs and ministries.