Advent Devotional, Dec. 19: "Ridiculous Stories" by Emily C. Heath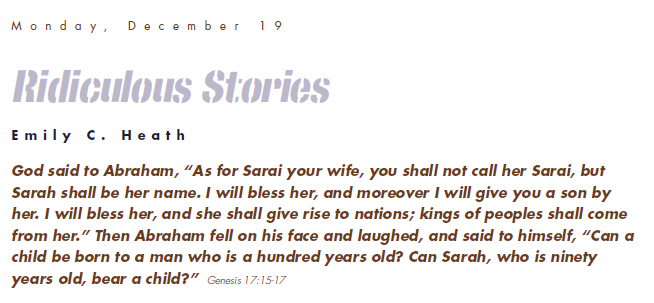 There are some truly ridiculous stories in Scripture. This is one of them. A couple that has been unable to bear children, and who have accepted this fact in their elder years, suddenly find out that they are going to have a child.
Abraham's reaction is a logical one: he laughs so hard that he falls down.
Thousands of years later, the announcement of another baby's coming birth drew astonishment too. Mary was told she was pregnant, which was more than a little surprising given the circumstances. Then she was told that this baby was going to change everything.
There's a fair amount of debate over whether or not Mary was really a virgin. Those who say she was say that this fact is indisputable and essential to the story. Those who say she was not focus on the unbelievable aspect of the whole story. How can a virgin have a baby?
I think both are missing the point.
Could Mary have been a virgin? I believe all is possible with God, so I believe yes. But was it essential? That's where I'm not sure. But I also don't really care much because, quite frankly, Jesus' conception is less miraculous than his life.
Jesus was the Prince of Peace come to earth, the promise of God's love for us and our reconciliation with God. We don't have to have every detail of the story down pat before we can recognize how amazing that is for all of us.
How Jesus came into this life is a far distant concern than what Jesus came to do in life, and to the life that Jesus promises us all, even now.
Blessed Jesus, be born anew in all of our hearts as we wait for your joyful nativity.
###
United Church of Christ Stillspeaking Devotional Published by Pilgrim Press. Shared with permission of the publisher.