Update from The Rev. Francesca Fortunato, Children and Youth Ministry Leader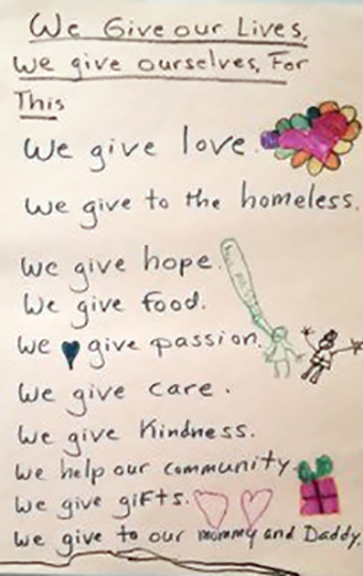 During the month of April (after a glorious Easter Sunday on April 1st – befitting our beloved, Jesus) the children's lessons and activities focused on sharing as a Christian act, and value. Through reflection on readings from the Book of Acts and the Epistles, and activities including dramatic play, games, drawing, and creative writing, the children explored the ways in which sharing is not merely about "stuff" ('though, of course, material sharing is a blessing. ) As a community following Jesus, we share our time, attention, stories, ideas, and the joy of the Gospel, not only within our church circles, but in the wider world as well.
In May, as we approach Pentecost, we will continue to reflect on the lessons of Acts and the Epistles, as they depict the early church. We will explore the ways that those first communities of radical love are models for us now, and what it means to be the Church. For children, it can be a true revelation to hear that church is not simply a place that we go, but something that we are, in communion with Christ and each other, in all times and places. And, to me, May seems like a particularly appropriate time to focus on the meaning of being Church, even when we aren't under The Park's roof, because many families are coming to church less frequently at this time of year. And that's okay. There are good reasons. So, it is my aim to help children understand that the Holy Spirit is with them, and that they are being the body of Christ, not only in Sunday school, but on the soccer field, at the chess board, at the piano, onstage during the dance recital…
We will also be looking at the ways we can "find" God (and be found by God) in our homes, with loved ones (happy Mother's Day!) and in the blooming beauty of the natural world, at this time of year. Saint Francis of Assisi taught that we can "read the book of the world" to learn about God, just as we read scripture. Children seem to have strong, innate gifts for that sort of "reading," and I love encouraging them to be conscious of the Holy Spirit's guiding, as they play outside.
May all of us be blessing and blessed, giving and receiving, loving and loved, as we grow toward God together, in these holy days of warmth, light, and beauty!