Sunday Preview by The Rev. Kaji Douša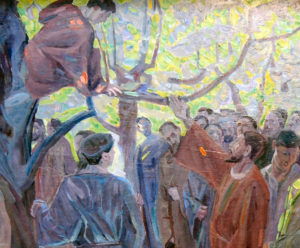 "Zakæ" (Christ And Zacchaeus) detail,
by Niels Larsen Stevns, 1913
Dear Church:
We live in the midst of interesting times, don't we? Read the news and yet another history-making event is taking place, sometimes for the better, sometimes not. In church, interesting times are coming as the pitch of tradition starts to send some souls wandering for togetherness. We'll see this with new visitors joining us on Sundays, friends from afar returning to experience the absolute magic of New York City in the holiday season. I love Autumn in New York, but I love Christmas in New York even more.
But first, we celebrate Halloween. Be sure to stick around for the organ postlude on Sunday: John Austin Clark has a very special treat in store for us as he opens up the Holtkamp Organ for Bach's Tocatta & Fugue in D Minor. Marjorie Watrobski and a team of good folk have pulled together a wonderful offering for the neighborhood children on Halloween evening. In support of the Teal Pumpkin Project for children with allergies, we will even have non-candy treats available, too!
Then, next Sunday we move from All Hallow's Eve to our observation of All Saints' Day, remembering all of the saints who have gone on to Glory. We invite you to share the names of people you'd like to remember in the service and will have a sign-in sheet in the narthex (just inside the entrance to the church). If you will not be able to join us that day but would like to have a loved one remembered, please send it to the church office so that we can be sure to remember them.
For this Sunday, we turn back to the Gospel of Luke. In our passage this week: Luke 19:1-10, we join Jesus in "interesting times" as he continues on his way to the great drama awaiting him in Jerusalem. Under the shadow of a jealous enemy's great palace, he shows up to Jericho like a rock star. Crowds gather around him because they just had to see. "Little" Zacchaeus could not see. I put little in quotes because he was known to be a powerful man. See, tax collectors started rich (they had to purchase the rights to collect taxes in the first place) and then just got richer. But he managed to see Jesus, and in so doing, everything changed.
We'll spend time there this week, in reflecting on how we can see Jesus even more.
Join us for worship: these are interesting times, indeed, and we have never needed to see Jesus more than we do today. Who can you bring who needs to see Jesus, too?
See you Sunday, church.