SERMON: "Obstructions" by The Rev. Kaji Douša, Oct. 30, 2016
He was holding his note firmly in his hand and he'd made it, made it close enough to get his idol's attention. He'd been following him for years, truth be told, from his quiet days before the miraculous ascent to more national prominence. And he had a message for him, a suggestion for how his idol might be even more effective in defeating the enemy.
He called out his name, again and again, eagerly trying to pass along this note of advice. And…the idol noticed! He called him out.
They say, in the ballet world, that there are certain characteristics that help a dancer to find a place in a dance company. Endless legs are helpful; they elongate a visual line and help with the ethereal nature of movement so many choreographers seek. The torso is less helpful; it's a box to hold the line. So the smaller the better, many think. In other words, it would be possible to think that the best kind of dancer is one with a short torso and long legs.
I happen to have freakishly long legs. You'd never guess it, but put me next to a woman who is 8-10 inches taller than I am, and it's likely that her legs will be no longer than mine. In this curious way, I have the anatomy of a ballet dancer. Coupled with the eating disorders I'm determined not to have (but not so possible without them), I could be or have the figure of a dancer you've typically imagine.
So wonderful. The trouble to this is that with absurdly long legs and a ridiculously short torso, I almost always sit below the eye-level of everyone else amongst me, with the exception of children.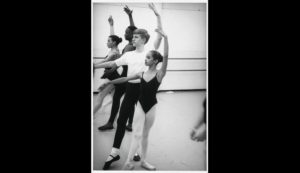 Misty Copeland, star dancer at the American Ballet Theater,
standing below her peers in her training years.
Image from here.

Let the children come, Jesus said.
Put me in a crowd and everyone else will see something I will not. Because apparently dancing is not the only ticket to the things we'd like to see and know.
I've considered toting along a booster seat to place me on a level playing field with everyone else. But that's inconvenient and too awkward to meet my own sense of social readiness and acceptability, so I don't. This means that, because of my short torso, there are many visuals I will miss in a crowd.
Crowds can be quite the impediment to seeing the main attraction.
Imagine the ones who crowded around Jesus. Obviously they'd heard a thing, they'd read (or their equivalent) about him on Facebook. They know there was something about him they just had to see and they did what they could to be there and witness it for themselves.
As they did, maybe they had a sense of consciousness that there would be others who couldn't see. There wouldn't be jumbotrons to project Jesus' image for the masses. No, being in the front of the crowd would make all of the difference and they knew that. So they pushed their way forward, short or long torsos alike. They just had to see this Jesus. Much like, I'd imagine, I just have to see this Hamilton. Or the Formation Tour I was so excited to witness. Or this Kerry James Marshall show opening this week at the Met Breuer. Or the Kathleen Battle Claque as she returns to the Met for the first time in forever. Or any other hot ticket item.
Hot ticket items are like this: you can buy your way to the premium seats.
He'd heard about this attraction, Zacchaeus. And he was determined, determined to get a good seat. But the crowds wouldn't let him. So he innovated. He climbed a tree and set himself on a different plane because he wanted to soar above the crowds.
Up above, he captured the attention of this Jesus of Nazareth.
Like the man of our initial story, he caught the attention of his idol.
In our contemporary story, the leader saw the follower and was suspicious. The follower was thrown out before he could pass along his note of support and advice.
Meanwhile, his torso was too short. The tickets he needed weren't available. So he did what he could, in desperation, and decided that what might have been an insurmountable obstruction would become a platform upon which he would stand to see this Jesus.
In this moment: the man decided that he would let nothing stand in his way to behold his God.
I reflect on this very seriously as someone who has had my image of God obstructed from time to time. There have been times when I've needed to see God, I've yearned to experience God, I've known that a moment with God would change everything! But I couldn't pull it off. The major transformative event just didn't show up for me.
A sycamore tree stood in my way. And I let it.
I don't mean this confessionally. All kinds of things can obstruct our view of God. All sorts of people will, for whatever reason, however inadvertently, stand in the way of our ability to notice God. And for those of us with the short torso who don't have the natural anatomy to see God easily, who aren't raised in households that define and build the habits to notice God, for example, sycamore trees might stand in our way all of the time.
Unfortunately – and this is the confessional part of my reflection – there are times when we are the sycamore tree. There are times when people so desperately want to see God and there are crowds claiming the knowledge of God and claiming the language of God who stand in the way. And then there are the entrenched behaviors, so deeply implanted that their practitioners don't even know they're doing them. And those behaviors stand in the way, too.
Like: a few years ago, someone said to me: we need an all-gender restroom at our church! And I reacted: "ew. You want me to have men share a restroom with women? Have you seen the difference between a men's and a women's room? H*!! No!" I answered (in gracious, Christian terms.) Never mind that the people who would benefit from this would fast for hours before coming to church so that they wouldn't have the urge to use the bathroom in spaces they didn't think they'd be safe. Never mind that, even in these "progressive Christian communities" with people who applauded their own open-mindedness, the idea of sharing a bathroom with someone they considered to be anatomically other was…disgusting to them. Never mind that I was one of them. In this way…I became…the tree. I stood in the way of those who could've come to church and beheld the full, beautiful Word of God. All because of my fear.
There are all kinds of ways that our fears erect trees that stand between need and God's grace.
The Good News is that God can work around it. And so can we. We might see the tree and climb it. This is what Freedom Fighters do; they see an obstruction and they decide to push past it, knowing that there is sweet justice on the other side. They will climb a flagpole and pull down a flag that says that they shouldn't exist, just because something inside of them says, yes, you should. And you are beloved.
Sometimes we have to rise above to see through.
Zacchaeus did this. Never mind what he did: his job shows that he was an unexpected beloved. And yet he was…beloved.
There's going to be a way in which you're an unexpected beloved. Where the so-caled "Bible" calls you out and seems to identify you as exempt from God's grace. Where you're too nasty to be beautiful. Where your torso is too short to see above a crowd.
Remember this: a crowd is no obstruction for God. No group or mob can ever serve as God's proxy. No shout can overpower the voice of God. No landscape can hold you back, no matter your stature, from the love of God. Because God is not measured in meters or decibels. God is. God is good [all [of] the time].] Jesus can glimpse through a crowd of people saying all of the right things and notice the one who didn't know, or couldn't say, the catch phrases or the right buzz words. Atop whatever sycamore tree you might've climbed to see Jesus, no matter what you can or cannot say, Jesus will see you and have something amazingly good to say.
Always, always I call on us to see what ways we live into the characters of a Gospel story. And maybe we see ourselves in the crowd: knowing we desperately need Jesus and calling his holy name again and again. That's much of the point of church, isn't it? We gather as a crowd to say Jesus! Jesus. We need you.
And maybe we see ourselves as the ones in the crowd who cannot seem to feel what the rest of the folk feel, and who want a different angle or perspective. So we climb to the top of the tree, or as high as our climbing skills will take us. And we hope that the idol will notice us. We hope and pray, we hold the note we so desperately hope he'll read. And we wonder.
With God: the wondering doesn't have to go too far. Unlike other rulers who might criminalize our interest out of our fear…our God does not fear. Our God does not criminalize us, doesn't call the riot police on us, doesn't try to chop down the sycamore tree we climb out of desperation. Instead, our God notices our trouble, pays attention to the circumstances we come from and makes a way no matter what.
Jesus says that children see God in a way that adults have trouble doing. Yet, the children are so little! How can they see through the crowds? Well…they do. Because no one can stand in God's way.
Our traditions, expectations, standards, can stand in someone else's way of seeing God. But we can get out of the way. We can dedicate ourselves not to be an obstruction, not to be something that could divert the power of love.
Even if we can't, remember this: the sycamore tree could've been viewed as an impediment. But instead, it helped Zacchaeus to get closer to God. A barrier is NO obstruction for God!
And this is powerful. Because God can take an obstacle and employ it as a tool in bringing us closer to God.
What "obstacle" is actually a tool God has placed at your disposal?
There are no obstacles for God. There are no impediments. No blockages. Not even our sin can stop God.
Our habits might have been obstacles to grace. But God is more powerful than that. God can turn a blockage around to actually to point to God.
Amazingly, this is, with the help of God, within your power, too. Look at the barriers and see opportunities to climb above the fray.