Children and Youth Ministry Update from The Rev. Francesca Fortunato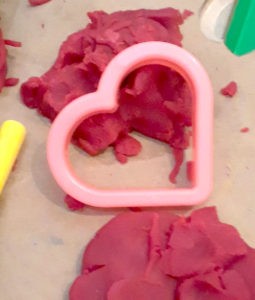 Dear Park People,
On Sunday, October 14th, we had exactly one child present for Sunday school, so made the choice to deviate from the planned lesson on Job, with the Active Listening activity that had been set to follow it. Instead, the child was invited to choose the Bible story she wanted to read. She chose "Jesus Walks On Water" (Matthew 14: 22-36) because that was the story depicted on the cover of the Children's NIV, which we were using. We speculated about how the friends of Jesus must have felt, when they saw Jesus walking toward them on top of the water. Scared? Excited. Relieved when the storm stopped! And how would we feel, if we were in that boat, with the storm all around, and Jesus walking on the water to us? Happy to see Jesus! Safe. Better…
Because today was also the birthday of Park Avenue Christian Church, we segued into discussion of why people would want to celebrate a church's birthday. Because they love their church! It's a place to pray and be happy. This led, naturally, to our Sunday school child being inspired to draw a picture of the church, make a birthday card for the church, and bake a (Play-Dough) birthday cake for the church!
On October 21st, we will read Hebrews 5:1-4. We will talk about how we can use the things we learn, from our own struggles and mistakes, that can make us more understanding and helpful to other people. We will then do  a slight variation on the Active Listening game, originally planned for the 14th, which will entail sharing stories of challenges, struggles and troubles in our own lives, and bearing witness for each other. We will test our listening abilities, by trying to re-tell another person's story, using our own words. If we have been listening carefully, all of the important events of the story should still be there, even though the words are different! After the game, we'll have a conversation about what it felt like, to tell our own stories, be heard, and be listeners for our friends.
Blessings, prayers, and well wishes as ever,
Rev. Francesca Fortunato, Director of Children's Ministry