Children and Youth Ministry Update from The Rev. Francesca Fortunato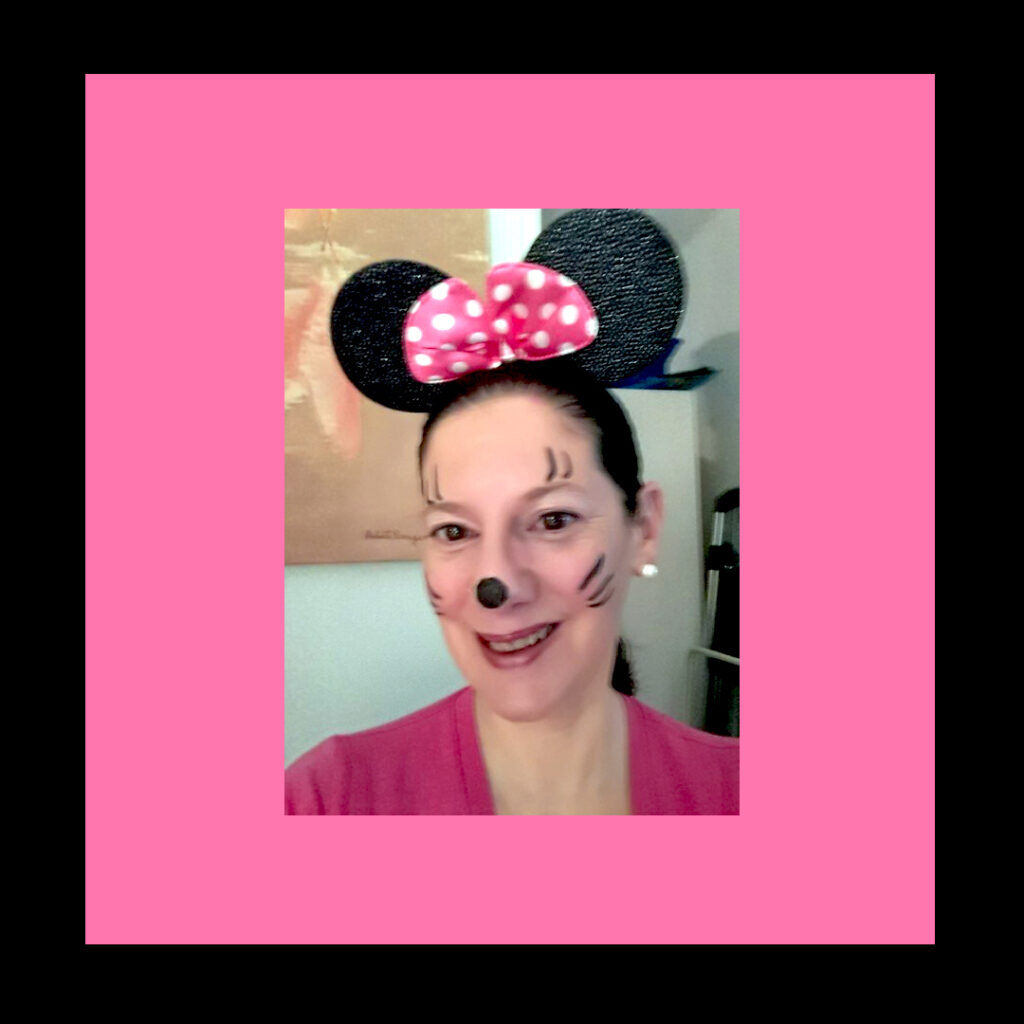 Dear Park People,
On Sunday, November 1st, the Park Sunday school community had a varied morning together. We began by comparing notes on Halloween experiences, which were, overall, happy, 'though mostly virtual. I heard about Princess costumes, Wednesday Adams costumes; colorful Autumn tree costumes. And (as I had promised) I showed up for Sunday school in costume, wearing a bubble gum pink shirt and Minnie Mouse ears (with the requisite giant, pink polka-dotted hair bow) and a mouse nose and whiskers, drawn on with eyeliner. (The latter required many applications of Cold Cream to remove, but it was worth the work, for the sake of entertaining children!)
After Belated Halloween doings, we proceeded to read the passage from Revelation, using our DK Children's Bible. I chose to direct our discussion toward the angels mentioned in the scripture, "singing praises to God." We talked about the presence of angels at joyful moments, in the Bible, and I asked the children where else they had noticed angels appearing. One child said, "Rockefeller Center." Me: "What else do you see at Rockefeller Center when the angels are there?" Child: "The Christmas Tree." And, so, we tied it together; angels at the beginning of the story of Jesus, and also at the very end of the Bible; messengers of the goodness of God.
On November 8th, we will read from the Mystic Bible (pages 29-30) the "God's eye is on the Sparrow" teaching of Jesus.  We will talk about ways to remind ourselves (and each other) of God's love, when we feel small, scared; vulnerable. Using our white boards and dry-erase markers, we will draw and write images and words, that remind us of God's love for all of creation.
I'm writing this on Election Day. Early in the morning. Not yet knowing how things will turn out, and feeling rather small and sparrow-like, myself. Striving to stay in a place of hope-filled faith. We teach the lessons that we need to learn…
Blessings and well wishes as always, for all of us!
Rev. Francesca Fortunato: Children's Minister