Children and Youth Ministry Update from The Rev. Francesca Fortunato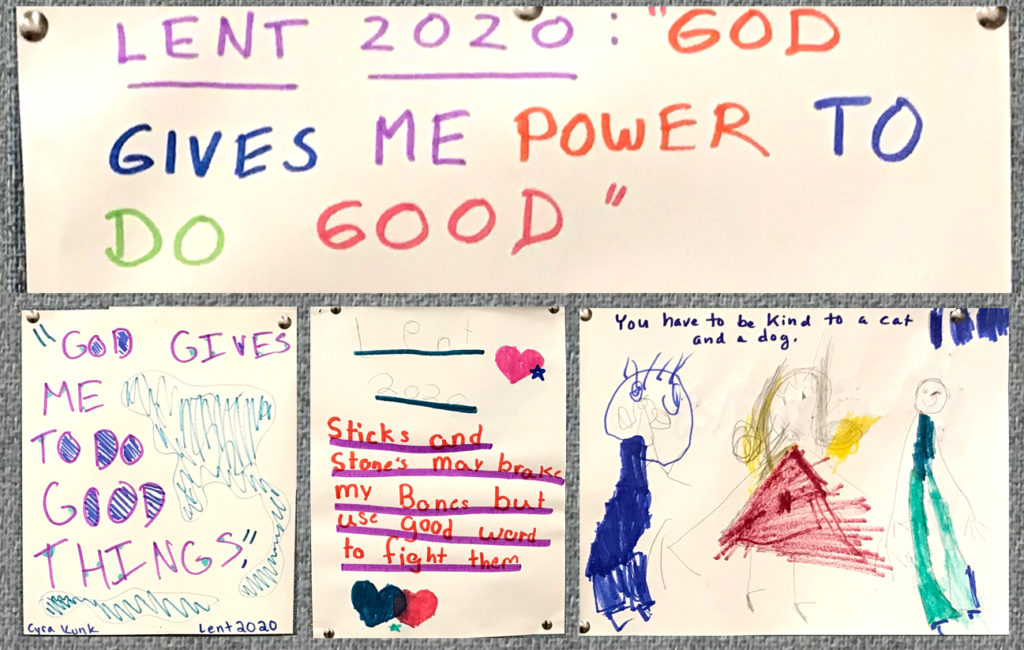 Dear Park People,
On Sunday, March 1st, the Park Sunday school children read Luke 4:1-13, in which Jesus spends 40 days in the wilderness, being tempted by Satan. We talked about temptation and power, in our own lives, and the challenges around following Jesus' example; using our personal power to help others, and not take advantage of them. Examples from the children: "If you're big and strong, protect smaller children; don't bully them." "If you have a lot of money or food, don't keep it all; share with people who have less."
For their creative response activity, the children used the phrase, "God gives me power to do good," as a writing prompt. Older children used their power (knowledge) to help the younger ones spell the words that they wanted to write! Some of the children chose to illustrate their writing, while, for others, it was all about the words. Lots of beautifully diverse ways to express the Divine gift of helping, healing; loving power!
On Sunday, March 8th, continuing the theme of right use of power, the Sunday school children will read the Book of Esther. We will discuss the ways that Esther and Mordechai used their powers (intelligence, beauty; courage) not merely to benefit themselves, but to save their whole community. For their creative response activity, the children will do a dramatic reading of the Esther story, using percussion instruments for extra noise, at the places where Haman (BOO!) makes his appearances.
As March marches, on, may all of us experience the precious promise of Spring, the lengthening (spiritual growth) of Lent…and remember to set our clocks ahead on Saturday night, so we can get to church on time for the first Sunday of Daylight Saving
Blessings and well wishes as always,
Rev. Francesca Maria (Miriam): Children's Minister