Children and Youth Ministry Update from The Rev. Francesca Fortunato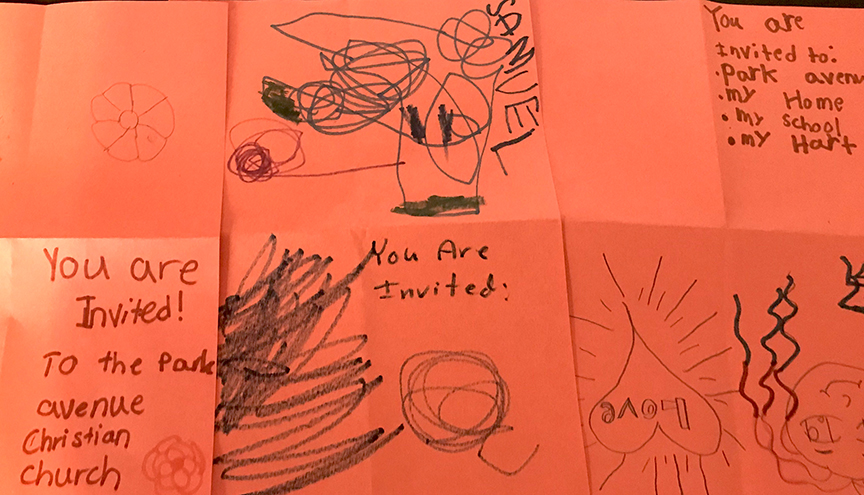 Dear Park People,
In January of 2019, the Children's Ministry community have been blessed to find ourselves back under The Park roof, this time in a temporary space located in the Narthex. Children and adults alike appreciate the fact that the area is well heated, and close to the sanctuary, which makes participation in communion easier and also facilitates the support of our child lectors. We're still working on adapting the space to improve it in some ways, which includes ordering free-standing screens, to muffle the beautiful but very loud music coming from the sanctuary, so that we can hear our own scripture readings, prayers, and conversations. So far, so good!
Our January lessons focused on joy (in God and in our Christian community.) Activities included a collaborative poster about God's joy, dramatic play about attending the wedding at Cana, and doing our own evangelism ("fishing for people") by making invitations, to invite friends to our church.
Our February lessons will be about expressing and living the blessings of love, for God, and for other people. Activities will include drawing/writing comic strips on the subject of acceptance and welcome, writing stories and poems about the ways that we can do God's work of love in the world, making scratch-art Valentine hearts about the gifts of love, and using our dry-erase markers  and white boards, to "erase" some of our hurt feelings and begin the work of forgiveness, toward people who have treated us unkindly.
I want to conclude this month's report by expressing my enormous appreciation to our Sunday school teachers, Ms. Glenda and Ms. Laura, both of whom have been very resourceful and full of excellent ideas, for adapting to the ongoing changes in our children's ministry space. Together and individually, they have found, and implemented, ways to make our area prettier and more comfortable for all. (If you have not yet done so, come in and take a look at our tables, which have been covered/laminated in beautiful rainbow stripes!)
Blessings, well wishes, and high hopes, as ever,
Rev. Francesca Fortunato: Children's Minister