"Bloom with Expansiveness: When God is Human" by Kelsey Creech, Resident Seminarian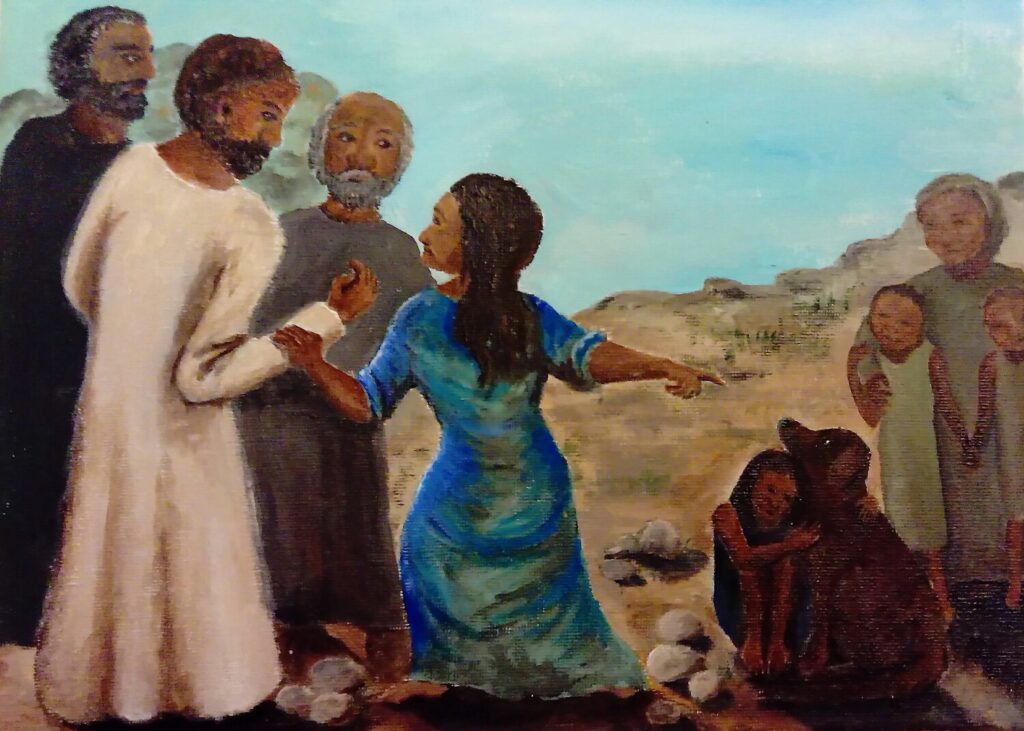 Dearly Beloved,
This month, we are blooming with expansiveness. Part of that involves looking at the parameters we've set up around who God is and pushing past them. Our Bloom Reading for this month, The Book of Longings, does this by pushing our understanding of Jesus as both fully God and fully human.
For me, the Gospel of Mark does a similar thing. We can think of each Gospel as a slightly different portrait of who Jesus was. Each emphasizes different traits and delivers us a nuanced look at Jesus through one follower. Mark's Gospel blesses us with the most human portrait of  Jesus.  This Jesus is more gruff than the Jesus of other gospels, and he doesn't always come across as patient and kind as we envision the perfect, divine begotten one of God to be. This  week's scripture, Mark 7:24-37,  tells one such story. Let's read together:
"24 Jesus left Gennesaret and went to the territory of Tyre and Sidon. There he went into a certain house and wanted no one to recognize him, but he could not pass unrecognized.
25 A woman whose young daughter had an unclean spirit heard about him. She approached Jesus and fell at his feet. 26 The woman, who was Greek, a Syro-Phoenician by birth, begged Jesus to expel the demon from her daughter.
27 He told her, "Let the children of the household satisfy themselves at table first. It is not right to take the food of the children and throw it to the dogs."
 
28 She replied, "Yes, Rabbi, but even the dogs under the table eat the family's scraps."
 
29 Then Jesus said to her, "For saying this, you may go home happy; the demon has left your daughter." 30 When she got home, she found her daughter in bed and the demon gone.
 
31 Jesus left the region of Tyre and returned by way of Sidon to the Sea of Galilee, into the district of the Ten Cities.
 
32 Some people brought an individual who was deaf and had a speech impediment, and begged Jesus to lay hands on that person. 33 Jesus took the afflicted one aside, away from the crowd, put his fingers into the deaf ears and, spitting, touched the mute tongue with his saliva. 34 Then Jesus looked up to heaven and, with a deep sigh, said, "Ephphatha!" that is, "Be opened!" 35 At once the deaf ears were opened and the impediment cured; the one who had been healed began to speak plainly.
 
36 Then Jesus warned them not to tell anyone; but the more he ordered them not to, the more they proclaimed it. 37 Their amazement went beyond all bounds: "He has done everything well! He even makes the deaf hear and the mute speak!"
[Mark 7:24-37 (ILB)/ Marcos 7:24-37 (NVI)]
This scripture is difficult. While we hear of Jesus healing many people and may see traces of humility in his insistence that they keep his identity secret, we also witness Jesus compare a woman and her child to dogs as he refuses to expel a demon from her child. Instead of theologizing about this moment and placing a bow on this week's scripture, I'm  going to encourage our community to sit in the discomfort it brings.
Let's dwell together on why this story was important to be passed down through our tradition and what it reveals about God, about humanity, and maybe even about what is perfect. If we believe Jesus is without sin, which we do, then how do we make sense of this moment of rudeness, resistance, and gate-keeping? I invite you to sit with me in the discomfort of it. Maybe through community, we'll find answers together  – answers that expand our portrait of Jesus, our understanding of God, and our relationships to one another.
May it be so.
Joyfully Yours,
Kelsey Creech, Resident Seminarian