"Bloom with Intention: Let God Be God" by Kelsey Creech, Resident Seminarian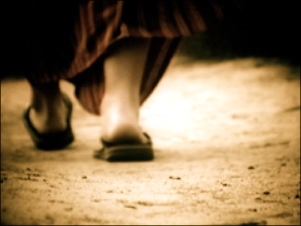 Disciples,
We are halfway through the summer, and I hope you're all finding time to enjoy the sunshine and feel its warmth. I'm enjoying my summer break in Upstate New York this week, celebrating my sister's birthday with our family. It has been a week full of relaxation and fun, and I am grateful for the opportunity to celebrate her life and health.
Our scripture for this Sunday comes to us from the Gospel of Mark, Chapter 6. It's one of the stories I remember most vividly from scripture. Jesus, having just brought a girl back from the dead, returns to his hometown and finds that he can do no such miracles. Read with me and pay close attention to the way the town is described:
"1 After leaving there, Jesus came into his own town, followed by the disciples.  
 
2 When the Sabbath came, he began to teach in the synagogue, and the many listeners were astonished and said, "Where did he learn all this? What is this wisdom that has been granted, and these miracles that are performed by his hands? 3 Isn't this the carpenter, the son of Mary, the brother of James and Joseph and Judah and Simon? Are not his sisters here with us?" They found these things to be stumbling blocks.  
 
4 Jesus said to them, "Prophets are not without honor, except in their hometowns and among their own relatives and in their own households." 5 And he could work no miracles there, apart from laying his hands upon a few sick people and healing them; 6 their lack of faith astounded him. He made the rounds of the neighboring villages instead, and spent the time teaching.  
 
7 Then Jesus summoned the Twelve and began to send them out in pairs, giving them authority over unclean spirits. 8 He instructed them that they should take nothing for their journey, except a mere staff—no bread, no bag, no money in their belts. 9 They were to wear sandals but, he added, "Do not take a spare tunic."  
 
10 And Jesus said to them, "Whenever you enter a house, stay there until you leave town. 11 Any place that does not receive you or listen to you, as you leave it, shake off the dust from the soles of your feet as a testimony against them."  
 
12 And so they set off, proclaiming repentance as they went. 13 They cast out many demons and anointed many sick people with oil and healed them."
[Mark 6:1-13 (ILB)/Marcos 6:1-13 (NVI)]
Our scripture tells of people who could not wrap their minds around Jesus' identity because they could not see him as the Son of God as they only knew him as the Son of Mary and Joseph. Jesus states that a prophet has honor except in their hometown, among their relatives, and in their own house.  It's easy to read this as a claim that a prophet needs a degree of relational distance between themself and those to whom they minister, but I think it has more to do with the way those people see the prophet than with their closeness.
Jesus' ministry thrived in places open to receiving Jesus as he was – as the Son of God, in places that allowed him to define himself for their community in that moment rather than assigning him to a certain role, places with open minds. Jesus knew this as well, and it's reflected in his instructions to his disciples to leave any place that will not welcome them as they are.
While Jesus' words in this passage are to his disciples, I find here instructions for communities of faith. Let people be who they are, not who we expect them to be. For  ministries to  flourish and miracles to happen, we must keep  an open mind and let people show us who they are and to reveal for us God alive within them, rather than assuming we already know.
To let God flourish, our faith has to be big enough to let God move whatever way God wants.  When we close our minds to who God can be and how God can act, we limit the ways God will work among us. May we all be open-minded enough to let God be God.
Thanks to those of  you who  joined me for Trivia last night. It was so much fun to share in fellowship with you all!  Congratulations to Hillary Buckland on her victory! Mary Norton finished close behind with only one point of separation. I'm looking forward to more fellowship in the future!
Joyfully Yours,
Kelsey Creech
Resident Seminarian