SERMON PREVIEW by The Rev. Kaji Douša, Oct. 9, 2016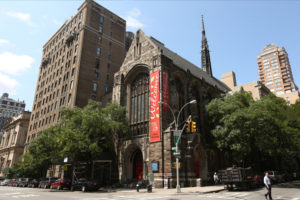 Dear Church:
I try to imagine what might have been on their minds these 206 years ago when our forebears founded our church. We can all conjecture about their intents and piece together a history. As we do, a fair assumption is that they wanted to draw closer to God, to Holy Scripture, to serve the people around them.
October 10 marks the 206th anniversary of our congregation. I like to imagine that our predecessors would take pride in where we have come, the ministries that have birthed from this community that serve the people of this city so faithfully.
With our founders in mind, I turn to our text this week. Jeremiah 29:1,4-7, is a message to God's Covenant People in exile, specifically, during the Babylonian Exile that began in 597 BCE. I read these stories in parallel with the people in exile that our congregation supports, often through our Immigration Clinics, even prison ministries, ministries to people who have come to this city seeking opportunities, safety, perhaps, that home could not offer. For immigration so often sends people into exile.
I encourage you to take a look at the broader context of our passage, in Jeremiah chapters 27-31. Unsurprisingly, it seems that God's people were falling prey to the quick fix promises of false prophets who were going to make Jerusalem great, so to speak, with a quick restoration. Jeremiah wanted the people to know in no uncertain terms that was not God's plan – at least not that way, at least not yet. Instead of projecting to some nostalgic return, Jeremiah had a word from God: that they turn to the place where they are right now. They are to "plant gardens". They must "seek the welfare of the city" right now rather than wasting time dreaming of another time and place. A new day would come, the New Jerusalem was on its way. But not following false prophets with their empty promises and "lies".
People of any age do well to know a false prophet when we see one so that we do not fall prey to the seduction of their message. Maybe one lesson we can gain from this week's lectionary text is an important marker of God's favor and anointing: it points to the welfare of the city. It seeks to serve and to help, not to demonize or to harm.
So, 206 years later, how do we honor the founding spirit of our church as we seek the welfare of our beloved New York City? How do we do the work of God with a people in exile who are ready to dig roots, plant gardens and thrive? This week we will consider these ideas, together, seeking God's Word for us right now.
I hope to see you Sunday, church. Bring a friend, too.
Pax Christi,
Kaji