Saluting The Rt. Rev. Dr. Lynn E. Walker and Rev. Francesca Fortunato – role models for LGBTQ+ military personnel
We're so proud of our Children and Youth Ministry Leader, The Rev. Francesca Fortunato and her spouse, The Rt. Rev. Dr. Lynn E. Walker, for being role models and mentors to LGBTQ+ people in the military.  Here's Rev. Francesca's reflection on The Civil Air Patrol New York City Group Military Ball they attended on March 16 at Ft. Hamilton Army Base Community Club: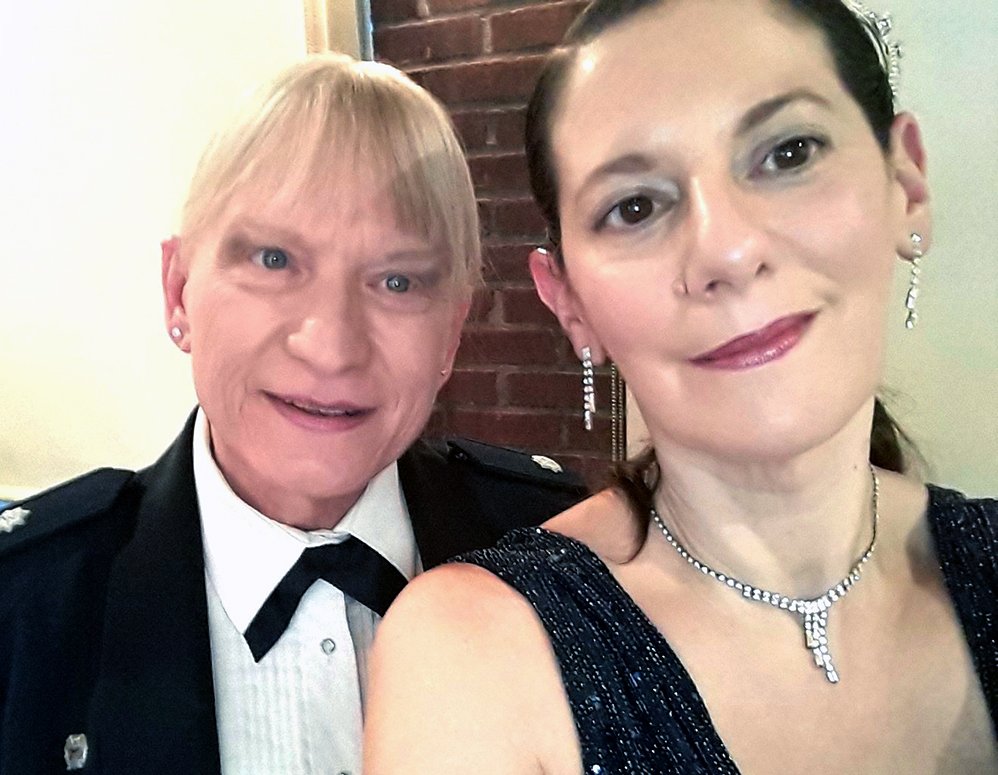 The Rt. Rev. Dr. Lynn E. Walker (above left) and The Rev. Francesca Fortunato
Though Lynn is a member of Vietnam Veterans Against War, and very much a person of peace, she is proud of her service in the Army Medical Department. She is also proud of her current (very part time, volunteer) service with the Civil Air Patrol (the Air Force auxiliary, who do search and rescue work and respond to natural disasters). The Civil Air Patrol sponsored their first local Military Ball six years ago, and Lynn and I have gone together every time (this was the 7th one). The first Military Ball was what inspired us to start ballroom dance lessons, and that led us to our shared passion for ballroom and our  very serious, shared hobby as Dancesport competitors.
The connection to our faith is a bit tangential, but, for us, the Military Ball is an annual opportunity to show up and out, proudly, as a same-sex married couple, in the Civil Air Patrol and wider military community, dancing together in this romantic setting. Lynn feels especially strongly that we are setting a good example for the teenaged cadets, whom she serves as squadron commander, and that our being out has helped make some of them feel safe coming out, to her, and to their friends, as LGBTQ+. When I'm at these events with her, I also spend time with the cadets (we had some good conversations that night) and I see it as a way of being an extra adult mentor and friend to them, even though I'm civilian.
For Lynn, the Civil Air Patrol work is, very much, a ministry, to the young cadets as well as to the people who receive help during natural disasters (they were very active after Hurricane Sandy). Lynn also served as a chaplain with Civil Air Patrol for 5 years before accepting the squadron Commander post, and worked mostly with adults in that capacity, in a way more directly related to her Christian ministry, providing religious and moral support. She continues to work with adult CAP members (mostly parents of the young ones) in addition to the teenaged cadets, and is, very much, there to support them, too.
For me, with no military background, skills or interests in those areas, it's an opportunity to give Lynn emotional support in these ministries, and show my pride in her, as well as our pride in representing as a couple.